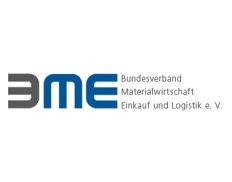 Member
BME - Bundesverband Materialwirtschaft, Einkauf und Logistik
Member
Details
Types:
Consulting Organization
Funding agencies:
EC, Other, GIZ, Horizon 2020, OECD
Sectors:
Education, Industry, Commerce & Services, Inst. Devt. & Cap. building, Macro-Econ. & Public Finance, Other, Procurement, Programme & Resource Management, Public Administration, SME & Private Sector, Trade, Training
About
The Association for Supply Chain Management, Procurement and Logistics (BME), founded in 1954, is the leading professional association for supply chain managers, buyers and logisticians in Germany and Central Europe. We see ourselves as a service for our members who belong to all industrial and service sectors, including trade, banking, insurance and public institutions.
As one of the largest buying groups in Europe, the BME is the perfect partner for building a worldwide network between purchasers, suppliers, institutions and politicians. We perform a bridging function to synchronize the procurement interests between German companies and international markets.
In order to support the procurement interests of our members, we maintain close contact with political institutions locally and abroad. We are steadily expanding our worldwide network and in many areas, we actively support our members in planned sourcing measures.