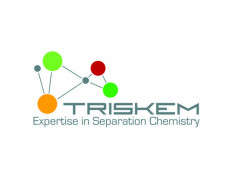 TrisKem International SAS
Details
Sectors:
Industry, Commerce & Services, Nuclear, Science & Innovation, Trade
About
TrisKem International SAS is an independent French medium size enterprise of a capital of 40.000 Euros. We develop, produce and commercialise chemical products and the associated accessories for radiation protection and monitoring of radioactivity levels in the environment.
Our product line, well known under the name Eichrom Resins, consists of extraction chromatographic resins which allow the separation of radionuclides (actinides and fission products) from various samples and matrices (environmental, medical and bioassay samples as well as waste samples).
Our products are a standard technology in radiochemistry used by international accredited laboratories and monitoring agencies.
The resins, currently commercialised by TrisKem International, are the result of R&D efforts conducted with the aim to respond to important and complex problems in the radiochemical analysis.
We will continue this research & development and extent our field of competence to the area of environmental monitoring of non-radioactive pollutants. We are developing our know-how in the aim to contribute with new applications and technologies to respond to the pressing questions of how to preserve and protect our environment.