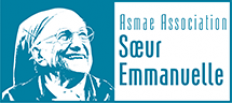 Asmae - Association Soeur Emmanuelle (HQ)
Details
Types:
Consulting Organization
Sectors:
Education, Health
About
Asmae is an association under the 1901 Law, Recognized by Public Utility and authorized to receive bequests, donations and donations.
Present in 8 countries (Egypt, Mali, Lebanon, Philippines, Madagascar, India, Burkina Faso and France), Asmae is committed to supporting local actors who work for the most vulnerable children by promoting their autonomy through education and protection. True to the values of listening and reciprocity, conveyed thirty years earlier by Sister Emmanuelle, Asmae's current teams continue to work with local associations by providing advice and support.
We are convinced that it is through dialogue and exchange that we will come together to maximize the scope and effectiveness of local actions for the benefit of children, their families and their communities. This is why Asmae - Association Sœur Emmanuelle first seeks to promote local skills before strengthening them through the intervention of professionals.
Our missions
Foster child development, through a holistic approach;

Strengthen the capacity of local actors of child development, reinforce synergies between them, and maximize their social impact;

Defend the cause of the child by raising awareness and speaking (advocacy);

Experiment, spread, spread.