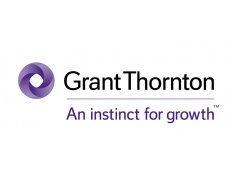 Details
Types:
Consulting Organization
Sectors:
Audit, Finance & Accounting
Nr. of employees:
1001-5000
Other offices:
Burkina Faso, Austria, Saudi Arabia, Kosovo, Botswana, Tonga, Sint Maarten, Mongolia, Zambia, Egypt, Lebanon, Panama, Kazakhstan, Belize, UAE, Togo, Azerbaijan, Tunisia, Cameroon, Guinea, Italy, Afghanistan, Tanzania, China, Uganda, Gabon, Mozambique, Singapore, Ireland, Kenya, Malawi, Peru, Mexico, Brazil, Ethiopia, Philippines, New Zealand, Slovakia, Bangladesh, Belarus, Moldova, Albania, Gibraltar, Zimbabwe, Algeria, Luxembourg, Belgium, Honduras, Kyrgyzstan, Romania, Croatia, Czech Republic, Georgia, South Africa, Indonesia, Germany, Spain, Pakistan, Yemen, France, Morocco, Uzbekistan, Uruguay, Tajikistan, India, North Macedonia, USA, Namibia, Cambodia, Senegal, Serbia, UK, Turkey, Greece, Russia, Colombia, Nicaragua, Argentina, Bulgaria, Vietnam, Ukraine, Armenia
About
Grant Thornton is one of Sweden's largest auditing and consulting companies. With practical advice, which is based on knowledge and experience, we help our customers to release their potential to grow and develop. We help you realize your company's ambitions Grant Thornton's employees are passionate about supporting customers in the financial issues, so that they can develop profitably, grow wisely and minimize their risks. This commitment also characterizes our corporate culture and how we work. Our ambition is to provide you with clear, clear messages, competent advice that are understandable and available when you need us. We are a member of one of the world's leading international networks of independent auditing and consulting companies, Grant Thornton International Ltd. This means that our customers have access to local expertise in about 130 countries. Are you a woman and want to network and establish new business contacts? Now there is the group "Grant Thornton Female Network" on LinkedIn. Search the group name and join already today! Are you a former Grant Thornton employee? Join our alumni group! Search for "Grant Thornton Sweden Alumni" and network with us and former colleagues.