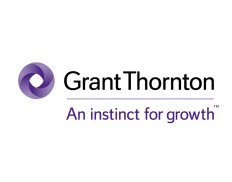 IB Grant Thornton (Slovakia)
Details
Legal residence:
Slovakia
Types:
Consulting Organization
Funding agencies:
EBRD, Other
Sectors:
Advocacy, Audit, Finance & Accounting
Other offices:
Burkina Faso, Austria, Saudi Arabia, Kosovo, Botswana, Tonga, Sint Maarten, Mongolia, Zambia, Egypt, Lebanon, Panama, Kazakhstan, Belize, UAE, Togo, Azerbaijan, Tunisia, Cameroon, Guinea, Italy, Afghanistan, Tanzania, China, Uganda, Gabon, Mozambique, Singapore, Ireland, Kenya, Malawi, Peru, Mexico, Brazil, Ethiopia, Philippines, New Zealand, Bangladesh, Belarus, Moldova, Albania, Gibraltar, Sweden, Zimbabwe, Algeria, Luxembourg, Belgium, Honduras, Kyrgyzstan, Romania, Croatia, Czech Republic, Georgia, South Africa, Indonesia, Germany, Spain, Pakistan, Yemen, France, Morocco, Uzbekistan, Uruguay, Tajikistan, India, North Macedonia, USA, Namibia, Cambodia, Senegal, Serbia, UK, Turkey, Greece, Russia, Colombia, Nicaragua, Argentina, Bulgaria, Vietnam, Ukraine, Armenia
About
IB Grant Thornton Audit s.r.o. and IB Grant Thornton Consulting k.s. were founded in 1991 and joined Grant Thornton in 1999. We offer audit, tax, advisory, accounting and outsourcing services to a diverse client base, including public companies and privately held businesses. Our clients are medium and large international organisations – many have Austrian or German backgrounds.