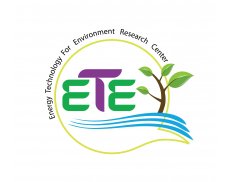 ETE- Energy Technology for Environment Research Center
Details
Legal residence:
Thailand
Types:
Consulting Organization, Academic Institution
Funding agencies:
WB, Other, GIZ
Sectors:
Energy, Research
About
Research Centre for Sustainable Energy Technologies Faculty of Engineering CMU (CHIANG MAI UNIVERSITY)
Energy Technology for Environment Research center (ETERC).
Thailand is among the countries of ASEAN, with the use of energy in very high doses. By using these energy Most come from imports And energy is also causing problems in areas such as environmental issues. The various stages of production, such as energy use and waste disposal. These environmental problems It may result in social problems in the region near sources of energy activity. And in other communities
From such a situation Makes Engineering Chiang Mai University As an agency that provides education and a part of social development and the environment. Believes that the potential areas are available.The body of knowledge in science and research. Links can bring benefits to the community and our country. In particular, the cause of development and community infrastructure. To make people in the community, especially the people at the grassroots level. And various local governments You can understand the problems and their potential. In order to develop a sustainable community. And the changes that will occur in the future ahead. The intention is to make the Faculty of Engineering. Has initiated the establishment of the Research Center for Sustainable Energy Technologies, on 28 December 2554 with the mission to bring knowledge and potential of the Faculty of Engineering. And network to develop a concrete and sustainable energy.

Research Centre for Sustainable Energy Technologies Unit research The Faculty of Engineering with interest and common purpose in solving energy and environmental problems of the country. Research by the The availability of personnel, materials and equipment from the Department of Engineering. For research and academic services to the public. Public and private sector The energy and environmental problems of the country have been solved properly by following principles.
objective
To establish a research center for environmental energy technology. Faculty of Engineering
To conduct research and academic services, energy and the environment to meet the mission of the Faculty of Engineering. And CMU In the field of research and academic community Erica Pereira.
To enhance the production of knowledge, curriculum and personnel in related discipline to be strengthened.
organizational
Research is the only way to integrate the knowledge, energy and the environment. The work carried out under the management of the research. Faculty of Engineering
A network of research groups or organizations that work to serve the academic community integrated disciplines.
Focused on bringing knowledge, energy and the environment to social development. To fulfill the mission of the university.
Non-profit I earn enough to support the implementation of the project or from the budget subsidized by the government.
Operations research or academic regulations of the University.