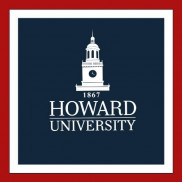 Details
Types:
Academic Institution
Funding agencies:
USAID, Other, Horizon 2020
Sectors:
Education, Research, Training
Nr. of employees:
5001-10000
About
Howard University (HU or simply Howard) is a federally chartered, private, coeducational, nonsectarian, historically black university (HBCU) in Washington, D.C. It is classified by the Carnegie Foundation as a research university with high research activity and is accredited by the Middle States Commission on Higher Education.
From its outset it has been nonsectarian and open to people of both genders and all races. In addition to the over 70 distinct undergraduate programs, Howard has graduate programs in business, nursing, engineering, pharmacy, law, social work, education, communications, art, science, divinity, dentistry, and medicine.
Howard is classified as a Tier 1 national university and ranks second among HBCUs by U.S. News & World Report. Howard is the only HBCU ranked in the top 75 on the 2015 Bloomberg Businessweek college rankings. The Princeton Review ranked the school of business #1 in opportunities for minority students and in the top five for most competitive students. The National Law Journal ranked the law school among the top 25 in the nation for placing graduates at the best law firms. Howard has produced four Rhodes Scholars between 1986 and 2017. Between 1998 and 2009, Howard University produced a Marshall Scholar, two Truman Scholars, twenty-two Fulbright Scholars and ten Pickering Fellows. In 2011, the Huffington Post named Howard the second best-dressed college in the nation. Howard is the most comprehensive HBCU in the nation and produces the most black doctorate recipients of any university.