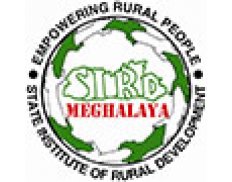 SIRD - State Institute of Rural Development
Details
Sectors:
Food Security, Inst. Devt. & Cap. building, Monitoring & Evaluation, Pollution & Waste Management (incl. treatment), Research, Rural Development, Training
About
The State Institute of Rural Development (SIRD) of Meghalaya was established in the year 1986 out of the grant received from the European Economic Community (EEC) Aid Programme and is supported by the Ministry of Rural Development, Government of India (MoRD-GOI), and Government of Meghalaya (GOM). The new campus was inaugurated on 6th September 1989. The SIRD, Meghalaya was notified as the Apex Level Training Institute in Rural Development of the Government of Meghalaya in the year 1994. It was registered in 1991 under the Societies Registration Act 1960 and thereafter, the SIRD Meghalaya functions as an autonomous organization under the Department of Community and Rural Development, Government of Meghalaya.
Capacity building, training, research and consultancy services are the core functions of the Institute. At present the focus of training is on capacity building of development functionaries, both officials and non-officials who are involved in the implementation of flagship programmes of the Ministry of Rural Development (MoRD) and the Ministry of Panchayati Raj (MoPR). These programmes are carried out as training courses, workshops, seminars and conferences.