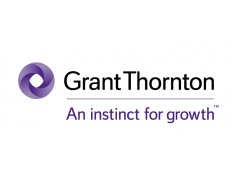 Details
Types:
Consulting Organization, Supplier
Sectors:
Audit, Finance & Accounting
Other offices:
Burkina Faso, Austria, Saudi Arabia, Kosovo, Botswana, Tonga, Sint Maarten, Mongolia, Zambia, Egypt, Lebanon, Panama, Kazakhstan, Belize, UAE, Togo, Azerbaijan, Tunisia, Cameroon, Guinea, Italy, Afghanistan, Tanzania, China, Uganda, Gabon, Mozambique, Singapore, Ireland, Kenya, Malawi, Peru, Mexico, Brazil, Ethiopia, Philippines, New Zealand, Slovakia, Bangladesh, Belarus, Moldova, Albania, Gibraltar, Sweden, Zimbabwe, Algeria, Luxembourg, Belgium, Honduras, Kyrgyzstan, Romania, Croatia, Czech Republic, Georgia, South Africa, Indonesia, Germany, Spain, Pakistan, Yemen, France, Morocco, Uzbekistan, Uruguay, Tajikistan, India, North Macedonia, USA, Namibia, Cambodia, Senegal, Serbia, UK, Greece, Russia, Colombia, Nicaragua, Argentina, Bulgaria, Vietnam, Ukraine, Armenia
About
We belong to a worldwide reliable and reputable network. Grant Thornton International (GTI) is one of the worlds leading network providing accounting, assurance and specialist advisory services; it brings under its umbrella 24.000 personel, 520 offices apread over 110 countries. Grant Thornton Turkey is a firm within GTI network and with its experienced personel provide all kinds of services in accounting, assurance and specialist advisory services. Grant Thornton Turkey is a leading firm its chosen area of activity in Turkey and has shown able to achieve steady growth over the years.