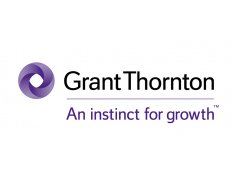 Member
Grant Thornton UK LLP
Member
General
Partners/Competitors
•

108
General
Partners/Competitors
•
108
Details
Types:
Consulting Organization
Funding agencies:
ADB, FCDO, EBRD, EC, EIB, WB, Other, UNOPS, UN, CoE, UNICEF, WHO, ILO, UNHCR, UNESCO, BEIS
Sectors:
Audit, Finance & Accounting
Nr. of employees:
1001-5000
Other offices:
Burkina Faso, Austria, Saudi Arabia, Kosovo, Botswana, Tonga, Sint Maarten, Mongolia, Zambia, Egypt, Lebanon, Panama, Kazakhstan, Belize, UAE, Togo, Azerbaijan, Tunisia, Cameroon, Guinea, Italy, Afghanistan, Tanzania, China, Uganda, Gabon, Mozambique, Singapore, Ireland, Kenya, Malawi, Peru, Mexico, Brazil, Ethiopia, Philippines, New Zealand, Slovakia, Bangladesh, Belarus, Moldova, Albania, Gibraltar, Sweden, Zimbabwe, Algeria, Luxembourg, Belgium, Honduras, Kyrgyzstan, Romania, Croatia, Czech Republic, Georgia, South Africa, Indonesia, Germany, Spain, Pakistan, Yemen, France, Morocco, Uzbekistan, Uruguay, Tajikistan, India, North Macedonia, USA, Namibia, Cambodia, Senegal, Serbia, Turkey, Greece, Russia, Colombia, Nicaragua, Argentina, Bulgaria, Vietnam, Ukraine, Armenia
About
Grant Thornton* is one of the world's leading organisations of independent assurance, tax and advisory firms. Over 31,000 Grant Thornton people, across 100 countries, are focused on making a difference to clients, colleagues and the communities in which we live and work.
*Grant Thornton UK LLP is a member firm of Grant Thornton International Ltd. References to "Grant Thornton" are to the brand under which the member firms operate and refer to one or more member firms, as the context requires. Grant Thornton International and the member firms are not a worldwide partnership. Services are delivered independently by member firms, which are not responsible for the services or activities of one another. Grant Thornton International does not provide services to clients.