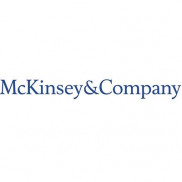 Member
Mckinsey & Company
Member
Details
Types:
Consulting Organization
Funding agencies:
EBRD, WB, Other
Sectors:
Information & Communication Technology, Macro-Econ. & Public Finance, Programme & Resource Management
Other offices:
Chile, Indonesia, Japan, Argentina, Panama, Nigeria, Kenya, Ethiopia, Croatia, Serbia, Kazakhstan, Spain, Australia, UAE, Morocco, Luxembourg, Ukraine, Switzerland, Austria, Peru, Thailand, Brazil, Poland, Netherlands, Canada, Czech Republic, UK, Italy, India, Germany, Turkey, Philippines, France, Romania, Mexico, Colombia, USA, Belgium, Sweden, South Africa, China
About
McKinsey is a global firm, comprising more than 12,000 consultants and nearly 2,000 research and information professionals. Our clients reflect our global nature. Around 40% are in Europe, 35% in the Americas, 15% in Asia Pacific and 10% in the Middle East and Africa. We serve a broad mix of private-, public-, and social-sector organizations.
Our firm is designed to operate as one. We are a single global partnership united by a strong set of values, focused on client impact. Our firm is owned by 1,400 plus partners, spread across Europe, the Americas, Asia Pacific, the Middle East, and Africa. We have no headquarters in the traditional sense. Our global managing partner, elected by the partners, chooses his or her home office, currently London. Our Shareholders Council or Board also comprises partners elected by their peers. Its 30 members represent more than a dozen nationalities.