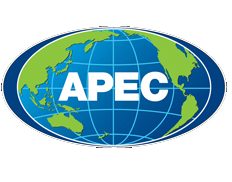 Asia-Pacific Economic Cooperation (Singapore)
Details
Address:
35 Heng Mui Keng Terrace, Singapore 119616
Contact person:
Dr Rebecca Fatima Sta Maria, Executive Director of APEC
Sectors:
Advocacy, Macro-Econ. & Public Finance, Public Administration, Trade
Nr. of employees:
501-1000
Description
APEC - Asia Pacific Economic Cooperation - (APEC) is a regional forum for 21 Pacific Rim member economies that seeks to promote free trade and economic cooperation throughout the Asia-Pacific region.
APEC aims to strengthen regional economic integration by removing impediments to trade and investment "at the border", enhancing supply chain connectivity "across the border" and improving the business environment.
Type of projects: mostly services.
In order to see APEC opportunities on DevelopmentAid, please click here.
Australia, Brunei, Canada, Chile, China, Hong Kong, Indonesia, Japan, Malaysia, Mexico, New Zealand, Papua New Guinea, Peru, Philippines, Russia, Singapore, South Korea, Thailand, USA, Vietnam
Circumstantial eligible countries
Direct vs. Indirect Management
Top Implementing Agencies
By Tender Sectors and Organization Types
By Grant Sectors and Organization Types