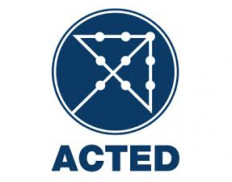 Agency for Technical Cooperation and Development (Turkey)
Details
Other offices:
Colombia, Central African Republic, Uzbekistan, Somalia, Mali, Bangladesh, Ethiopia, Thailand, Uganda, Burkina Faso, Niger, Ukraine, Lebanon, Nigeria, South Sudan, Tunisia, Sudan, India, Sri Lanka, Libya, Dem. Rep. Congo, Congo, Kenya, Syria, Iraq, Tajikistan, Kyrgyzstan, Cote d'Ivoire, Cambodia, Palestine / West Bank & Gaza, Yemen, France, Pakistan, Afghanistan, Senegal, Jordan, Philippines, Haiti, Nicaragua
E-mail(s):
turkey.tender@acted.org
Contact person:
Logistics Department
Sectors:
Conflict, Humanitarian Aid & Emergency, Migration, Security
Description
ACTED has been present in Turkey since 2012, with cross-border relief interventions in Syria from southeastern Turkey, as well as in-country response to the Syrian refugee crisis deployed for both refugee populations as well as host communities. Activities in Mersin province are mainly protection-related, through the provision of legal aid for refugees, and focus on improving access to employment for the population, by means of language courses and vocational training sessions.
Circumstantial eligible countries