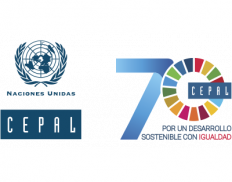 Economic Commission for Latin America and the Caribbean/ Comisión Económica para America Latina y el Caribe de las Naciones Unidas CEPAL (Chile - HQ)
Details
Address:
Av. Dag Hammarskjöld 3477 Vitacura, Santiago de Chile
E-mail(s):
procurement@cepal.org
Contact person:
Mr. Raúl García-Buchaca, Operations Division
Phone:
-5622471200022102000
Awards in:
Latin America and the Caribbean, Egypt, South Africa, Chile, Colombia, China, India, Austria, Belgium, Bulgaria, Croatia, Germany, Italy, Lithuania, Netherlands, Romania, Spain, Sweden, UK, Australia, Russia, Turkey, Canada
Sectors:
Macro-Econ. & Public Finance, Social Development
Nr. of employees:
501-1000
Description
ECLAC, which is headquartered in Santiago, Chile, is one of the five regional commissions of the United Nations. It was founded with the purpose of contributing to the economic development of Latin America, coordinating actions directed towards this end, and reinforcing economic ties among countries and with other nations of the world. The promotion of the region's social development was later included among its primary objectives.
In June 1951, the Commission established the ECLAC subregional headquarters in Mexico City, which serves the needs of the Central American subregion, and in December 1966, the ECLAC subregional headquarters for the Caribbean was founded in Port-of-Spain, Trinidad and Tobago. In addition, ECLAC maintains country offices in Buenos Aires, Brasilia, Montevideo and Bogotá, as well as a liaison office in Washington, D.C
Circumstantial eligible countries
By Tender Sectors and Organization Types
By Grant Sectors and Organization Types