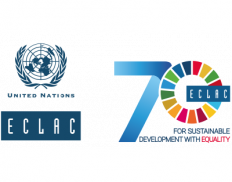 Economic Commission for Latin America and the Caribbean / Comisión Económica para America Latina y el Caribe de las Naciones Unidas CEPAL (Mexico)
Details
Address:
Corporativo MCS, Blv. Miguel de Cervantes Saavedra #193 piso 12 11520 Mexico D.F., Mexico
E-mail(s):
prensa@cepal.org, registromexico@cepal.org, staffing@cepal.org
Sectors:
Gender, Macro-Econ. & Public Finance, Research, Social Development, Statistics
Nr. of employees:
1001-5000
Description
ECLAC, which is headquartered in Santiago, Chile, is one of the five regional commissions of the United Nations. It was founded with the purpose of contributing to the economic development of Latin America, coordinating actions directed towards this end, and reinforcing economic ties among countries and with other nations of the world. The promotion of the region's social development was later included among its primary objectives.
As part of the United Nations Secretariat, the Economic Commission for Latin America and the Caribbean (ECLAC) bases its procedures and practices in relation to programme planning, programme aspects of the budget, monitoring of implementation and methods of evaluation, on the Commission's rules of procedure and on detailed regulations
Circumstantial eligible countries
By Tender Sectors and Organization Types
By Grant Sectors and Organization Types