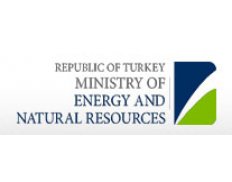 Ministry of Energy and Natural Resources of Turkey
Details
Address:
Turk Ocagi Caddesi No:2 06100 Cankaya/ANKARA/TURKEY
E-mail(s):
bilgi@enerji.gov.tr
Contact person:
Hasan Murat Mercan
Sectors:
Energy, Environment & NRM
Description
The Ministry of Energy and Natural Resources (ETKB) was established upon Presidential Approval No. 4-400 dated 25.12.1963 on the basis of the authority vested by Law No. 4951. Law on Organization of the Ministry was provided for on 13.02.1983 through Decree Law No. 186, which law was finalized by Law No. 3154 enacted on 01.03.1985. Yet, in order to ensure more effective performance of its duties, certain articles of Law No. 3154 were amended within the framework of Decree Law No. 367 on the "Establishment of EU-Related Units Within Ministries and Their Attached Institutions" which took effect for the first time on 14.04.1989, under which amendment, the Department of EU Coordination was established on December 28, 1989 as a Main Service Unit. And on 12.08.1993, Law No. 3154 was amended again by Decree Law No. 505 to the effect of converting two Departments within main service units into General Directorates, and establishing the External Relations Department. With Law No. 4693 dated 27.06.2001, which amended Law No. 3154 on the Organizational Structure and Duties of the Ministry of Energy and Natural Resources, the Transit Petroleum Pipelines Department was established as a Main Service Unit. And with Law No. 5436 on the "Amendment of Law on Public Financial Management and Control, and Several Other Laws and Decree Laws" which took effect in 2005, Strategic Development Units (SGBs) were created within all public bodies, and accordingly the Research, Planning and Coordination Board of our Ministry was replaced in 2006 by a Strategy Development Department.
Circumstantial eligible countries