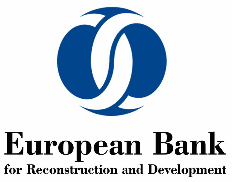 EBRD -European Bank for Reconstruction and Development (Macedonia)
Details
Other offices:
Czech Republic, Latvia, UK, Turkey, Russia, Tunisia, Morocco, Lebanon, Jordan, Egypt, Uzbekistan, Turkmenistan, Tajikistan, Mongolia, Kyrgyzstan, Kazakhstan, Ukraine, Georgia, Belarus, Azerbaijan, Armenia, Slovenia, Slovakia, Poland, Lithuania, Croatia, Serbia, Romania, Kosovo, Greece, Cyprus, Bulgaria, Bosnia and Herzegovina, Albania, Montenegro, Moldova, Hungary
Address:
Soravia Centre Skopje, 7th floor, Filip II Makedonski no. 3, 1000 Skopje,
E-mail(s):
ionescua@ebrd.com
Contact person:
Jonathan Charles, Managing Director of EBRD
Sectors:
Poverty Reduction
Types:
Financial Institution
Description
We provide project financing for banks, industries and businesses, both new ventures and investments in existing companies. We also work with publicly owned companies.
Each of our projects is tailored to the needs of the client and to the specific situation of the country, region and sector. Direct investments generally range from €5 million to €230 million. We provide loan and equity finance, guarantees, leasing facilities and trade finance. Typically we fund up to 35 per cent of the total project cost.
The Bank invests only in projects that could not otherwise attract financing on similar terms. For each project we finance, we assign a dedicated team of specialists with specific sectoral, regional, legal and environmental skills.
Through donor funds we mobilise investment capital and expertise by giving local business access to consultant experts. Donor programmes are funded by governments and international institutions, and are managed by the EBRD.
We also manage six nuclear safety and decommissioning funds. The biggest of these is for the transformation of the destroyed reactor in Chernobyl into an environmentally safe state.
Circumstantial eligible countries