In view of the fact that trade generates economic growth and job creation, it is therefore extremely important for micro, small, and medium-sized companies (MSMEs) to carve their way into international markets. However, only a few manage to penetrate these markets and even fewer are able to establish themselves as stable entities within global supply chains. In this context, various specialist organizations such as the International Trade Centre (ITC) and CoverPoint RCM provide qualified support for MSMEs to improve their competitiveness across international value chains and to secure long-term agreements with specialized global buyers and distributors.
DevelopmentAid, as a central hub for networking and knowledge-sharing in the development sector, hosted a webinar on the importance of Connecting buyers and sellers in international value chains. Our guest speakers, Cristina Reni (Market Development Coordinator at International Trade Centre) and Anthony Brand (CEO & Partner at CoverPoint RCM) shared some facts and tips concerning successful product launches into export markets and effective ways of identifying foreign distributors.
The ITC works towards supporting micro, small, and medium-sized companies around the globe to improve their competitiveness within international value chains and generate job creation at the local level. Its Alliances for Action (A4A) initiative is designed to establish a network of smallholder farmers/MSMEs and help them to transform food systems based on the principles of the Sustainable Development Goals. Those from Latin America and the Caribbean, Africa, and the Pacific who export coffee, cocoa, coconut, and other agri-products represent the focus of the A4A initiative.
Fig.1. ITC's 'Alliances for Action' initiative: the 5-pillar approach for partnerships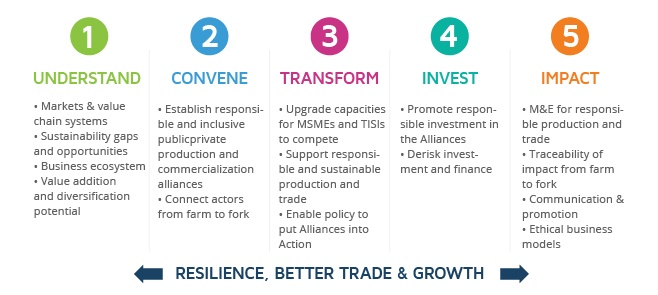 Cristina encouraged companies that are interested in exporting their products internationally to take into consideration the following tips:
CoverPoint RCM is a multidisciplinary international business development and consulting company with a mission to assist producers and service providers to enter or expand their presence in the European market by identifying the right buyer/distributor for their products. The company has experience working with a wide range of international investors, development agencies (e.g., Caribbean Export Development Agency), and private companies.
According to Anthony Brand, connecting producers with buyers and distributors is a vital element of the product value chain. A well-targeted match represents an important source of sales generation, brand recognition, and consumer feedback. Traditionally, such matches take place through in-person trade shows and events, via agents who market the producer to buyers, or within digital e-commerce platforms such as eBay. Nonetheless, in the last few years, we have seen the rise of non-traditional forums such as virtual trade events and direct social media marketing campaigns directed at distributors.
Anthony also introduced the Tobago Gold Rum as a great example of a product that secured wide recognition and distribution in nine countries in a timeframe of eight months. He shared the following tips that contributed to this success:
Here are some useful links:
The Coffee Guide, Fourth Edition – the world's most extensive, hands-on, and neutral source of information on the international coffee trade. Find it here.
You can learn more about the ITC's Alliances for Action initiative here or at alliances@intracen.org
You can learn more about the Tobago Gold Rum example here.
For those who did not have the opportunity to join us for this online event, a link to the recorded version can be found here. Presentation materials can be requested at e.rata@developmentaid.org
We invite you to join us for our next webinar on Doing Business with the World Bank. Corporate Procurement which will take place on 26 May 2022 at 4 PM (Brussels) or 10 AM (Washington DC). Our speaker, Faith Graham, Category Lead for Professional Services at the World Bank, will introduce the WB's Corporate Procurement Unit and will share some tips on how to identify business opportunities, submit solicitations, and prepare winning proposals.
You can register here.
DevelopmentAid is the leading provider of business intelligence and recruitment tools designed to assist all those active in the development sector. Join today and gain access to exclusive information on the full array of upcoming funding opportunities from over 200 international donors.