Ensuring food and nutrition security has become increasingly challenging now that the world, which has not yet seen the end of the COVID-19 pandemic, has to face military conflicts, rising food prices, and various international tensions. It is estimated that the number of undernourished people globally will increase by 8-13 million in 2022 – 2023, with one of the main reasons being the ongoing war between two of the world's biggest food exporters, Russia and Ukraine. Yet, as challenging as ensuring food security in times of conflict is, it also comes with opportunities and possible pathways to increase the resilience of agricultural and food systems, as concluded by a webinar recently organized by the Swedish FAO Committee and the Royal Swedish Academy of Agriculture and Forestry on the occasion of global World Food Day celebrations 2022.
Russia and Ukraine account for 30% of global cereal exports and there are many countries all over the world that depend on them. Furthermore, Russia is the leading exporter of nitrogen fertilizer in the world and the second-highest supplier of potassium which are both used in conventional agriculture. In March, the prices of these inputs sky rocketed and subsequently stabilized – all of which had an impact on food prices. The worst hit are those countries facing the highest price increases in Asia-Pacific, sub-Saharan Africa and the Near East and North Africa.
See also: How the war in Ukraine impacts the global fertilizer market | Experts' Opinions
Addressing participants of the webinar "Leave No One Behind – Challenges and Opportunities For Food Security", Máximo Torero, Chief Economist of the FAO in Rome, said that "in 62 most vulnerable countries, the food import bill has increased by USD25 billion". Highlighting the need to further provide food to support the less well-off and refugees, he also pointed out the importance of supporting badly hit countries "in growing their own food which is much more cost effective than cash or food transfers". Torero also emphasised that long-term strategies to reduce vulnerability were of paramount importance.
In a conversation with DevelopmentAid, historian and activist, Dr. Angela Coutinho, shed light on how these issues have been addressed by civil society in Cape Verde in the context of the war in Ukraine.
Civil society action for food security in Cape Verde
Viewed as one of the most developed and democratic countries in Africa, Cape Verde consists of 10 islands that are home to about 500,000 people. It lacks practically any natural resources with tourism being the sector that contributes most to its GDP – 35%.
The aridity of the islands presents numerous obstacles to food production, with the nation producing only 10% of the food needed and thus being forced to import the remaining 90%. Agriculture is practised on only four of the islands and even there, droughts badly hit production. Although the conditions in Cape Verde are not good for classical conventional monoculture (commercial) production, they are more favourable for family subsistence farming.
According to Dr. Coutinho, the war in Ukraine has exacerbated the situation in the country that is still recovering after the COVID-19 pandemic and, together with the droughts, has made the food crisis more acute in 2022. The FAO estimates that about 30% of its population will face food insecurity (compared to 3% in 2019) mainly due to growing food prices and unemployment.
Against this background, the Civic Action Group for Food and Nutrition Security (GACSA) in Cape Verde has been acting to provide an immediate humanitarian food response during the time of the military conflict that broke out in Eastern Europe. Together with other colleagues, Dr. Coutinho, a GACSA coordinator, decided to join efforts and created a core group of GACSA which consists of a former Member of the Parliament and former ambassador to Cuba, a medical doctor (coming from a local rural family with an agricultural background), a doctor in Environmental Sciences (water management) who is also one of the founders of the oldest environment protection organisation, an economist – a former minister who is currently working for an NGO, a journalist and a professor of political sciences from Boston, USA.
"Not long after the war started, the press became flooded with articles on initiatives and organizations that started to receive many more requests for food assistance. The government was planning to help people by offering them jobs and the FAO is helping the government to find funds for that. In June, the government announced this but the program has still not kicked off. So, we understood that there was food in Cape Verde – imports were possible – but the problem is that people cannot buy it. We realized we had to go to the community level to understand what was going on because there is food aid and a lot of help, but people are still hungry".
GACSA went directly to certain neighbourhoods and found a very difficult situation. In bigger towns, those who offer food aid could not even reach the people who needed help because they were harassed by the population so they had to give food through local community associations that they knew needed food the most.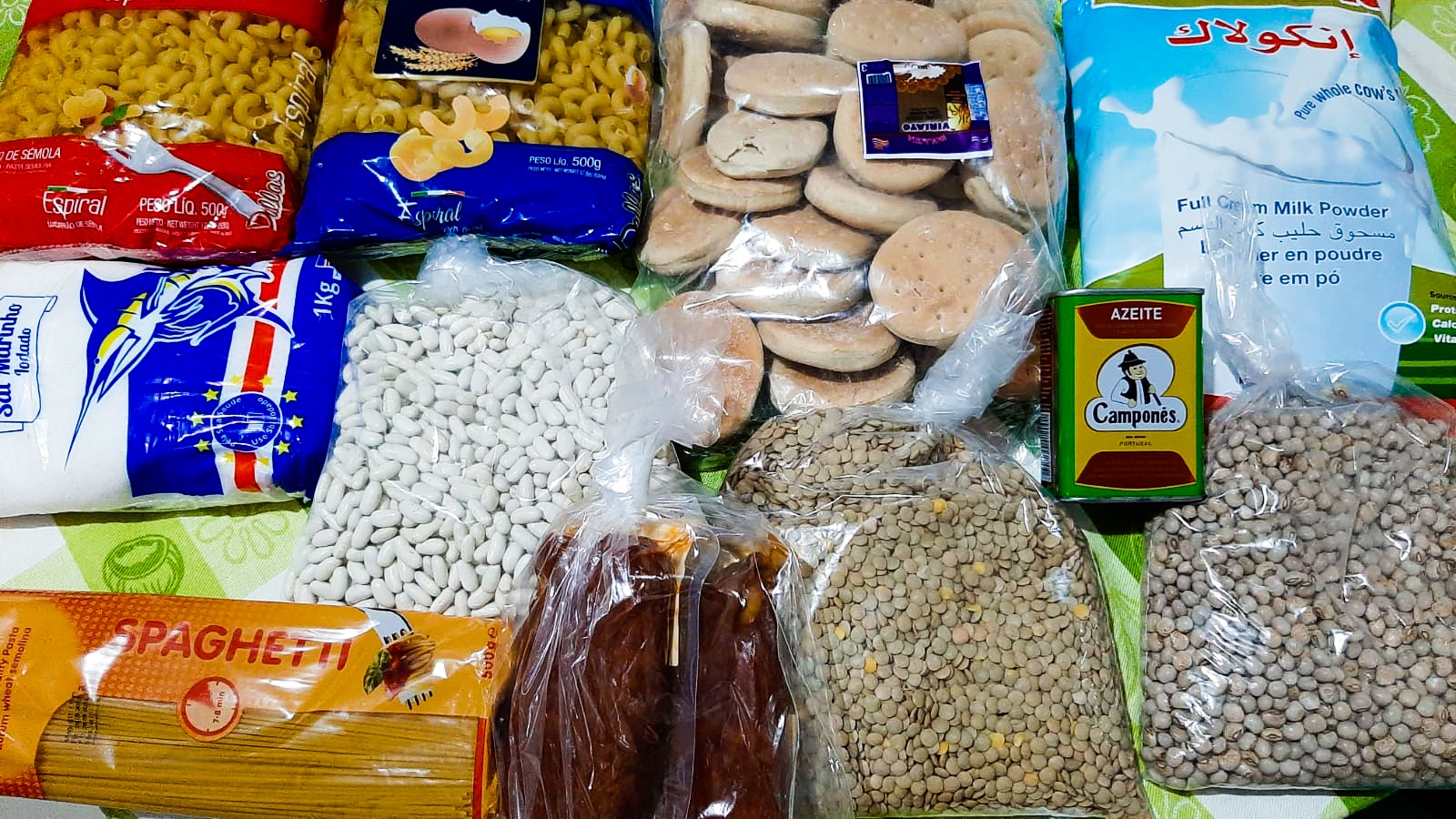 "We found out that there are families who were eating rice water (without rice) for an entire day. So, we decided to choose two groups of people – elderly people who cannot work and single mothers who have children with disabilities in the regions and districts where there is a high number of people in food insecurity (level 3 and 4)," narrates Dr. Coutinho.
GACSA contacted local organizations, the national food security agency, and the FAO in order to understand what type of food aid to provide. With the help of the FAO charter on nutritional needs, a national nutritionist adapted the charter to local production and possibilities, and the medical doctor from the group estimated that a family of two adults and two children would need about 100 euros a month to fulfil their food and nutrition needs (i.e., to buy food of minimal quality and diversity).
The group then decided to seek help from the diaspora which historically has supported those families that remained in Cape Verde. They decided to search for funds that could support prompt action that would last until December as from August-September the rainy season would start. With the help of local groups, they found their target families and have already managed to help 22 families. Now they are searching for bigger donors and trying to raise crowdfunding to collect more money.
Perspectives and long-term development
Besides offering an immediate response, the idea of GACSA is to develop a long-term program to help people to produce more food locally. People offering their help through GACSA also share this vision, considering food aid alone to be unsustainable.
"They are interested in giving money to help to get knowledge or training to grow food," emphasizes Dr. Coutinho.
The group found that there are already many projects happening in Cape Verde. The government is already supporting many initiatives and there is therefore experience. GACSA is seeking to map the existing knowledge, training needs and also study experiences from other countries. The current goal of the group is to gain access to these projects and respective reports:
"We need to know what has already been done, which technicians we have, what training is still needed but we found out we do not have access to these reports and projects".
GACSA is also considering the possibility of producing food in the cities as its members believe people need to learn how to grow food and create community gardens which would be able to support those with limited abilities. Historically, more people were involved in agriculture and livestock but with urbanization, half of the population moved from rural areas to the cities between 1960 and 2021 and is no longer involved in farming. Meanwhile, agriculture and livestock-related activities are considered the main activities that reduce poverty, contribute to job creation, and improve livelihoods in Cape Verde.
"We have very good soil. Maybe people will have to produce more food in Cape Verde. Maybe we will have to do community gardening everywhere, especially in the cities," concludes Dr. Coutinho.
See also: Farmer to farmer extension services: rethinking knowledge to feed the hungry