With foreign aid and development projects on the rise, tendering procedures and setting up consortiums demand more agile action and adaptability from implementers and contractors. In today's post, DevelopmentAid introduces the new features added in 2022 to the world's largest platform of international development market information – www.developmentaid.org. These innovations enhance user experience and streamline interaction with the database, saving time and offering great tools for market and competition analysis.
1️⃣ Shortlisted organizations for a specific tender/grant
Members can now see the shortlisted organizations for a particular tender directly within the tender description. This process saves valuable time as you won't need to download multiple tender attachments and scroll down these to view the prequalified participants.
Log in to developmentaid.org and check how shortlisted organizations are shown on the tender page. Not a member yet? Book a call with one of our Business Development Managers today.
2️⃣ Graphic win rate charts for organizations
When looking for organizations to establish сonsortia or checking a potential rival within the bidding, a graphic representation of the win/success rates of each company will be of enormous help. In 2022 we developed a new chart in the Organizations section to help companies to assess the win rate of a particular entity.
This chart also describes the entity's shortlists vs awards ratio and can be found under any organizational profile. Members can click on the list of shortlists/awards and examine each tender/bid awarded.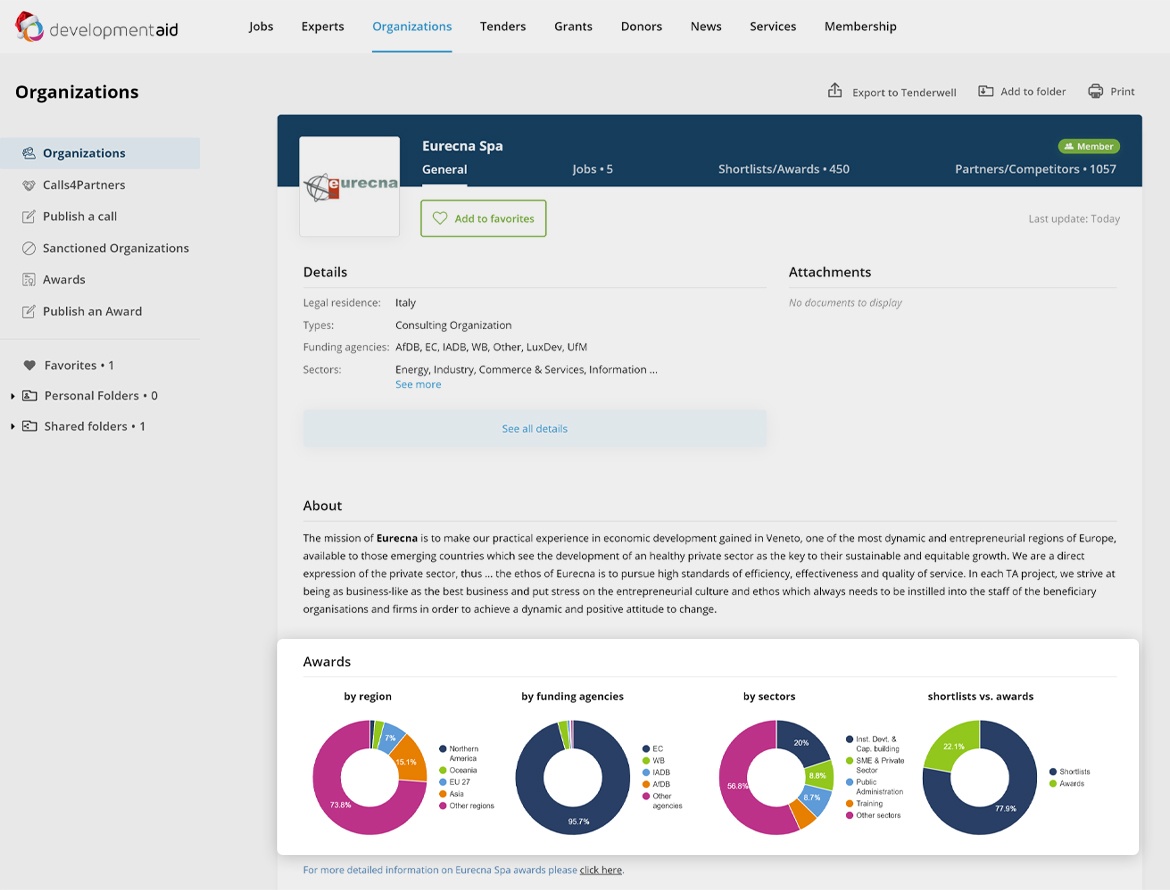 3️⃣ Expert's fees for multiple donors and regions
This feature offers unique insights into the daily rates paid by various donors across sectors and geographies. The Expert Fees database contains information regarding the consultancy fees charged by experts. Thousands of data points have been aggregated into this database which is continuously updated. The data is searchable by date range, seniority, citizenship, the location of the assignment, the duration of the assignment, sectors, roles and donors.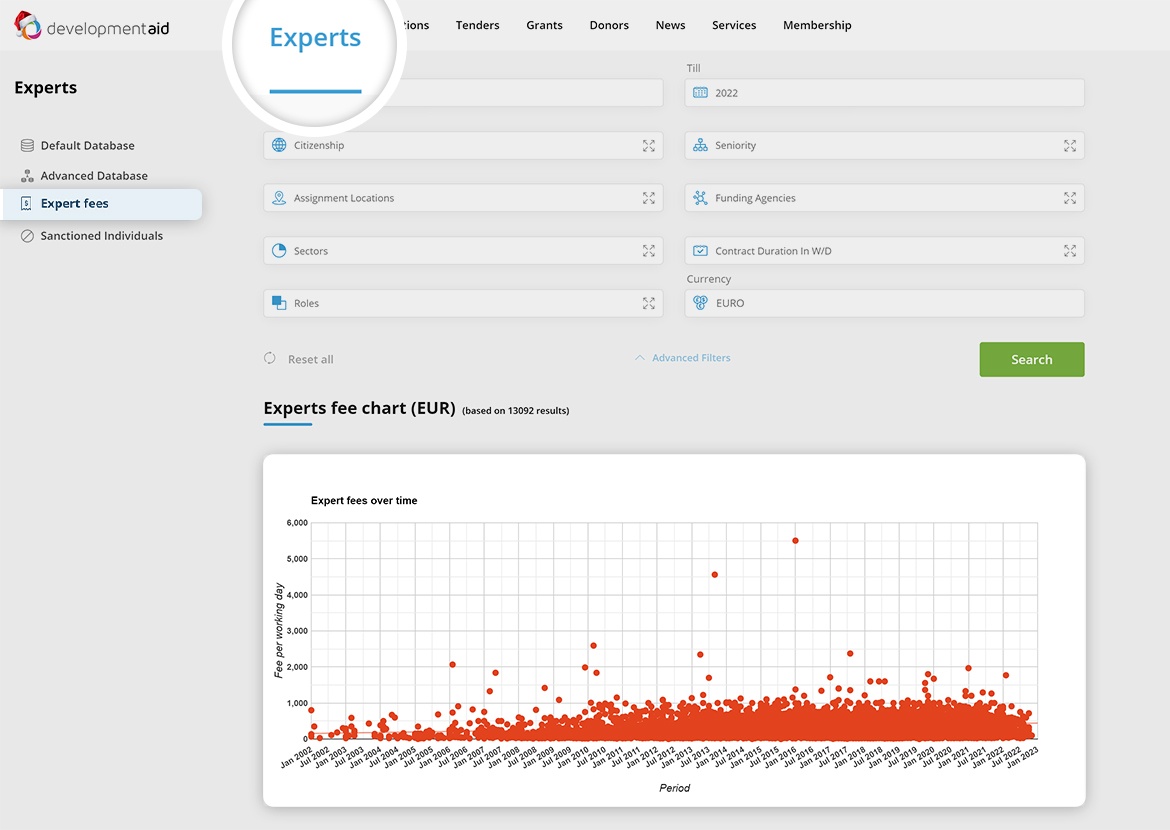 4️⃣ "Awards" tab in a Donor profile
Certain funding agencies sometimes take the role of implementers and in this case, donors become implementers. To facilitate access to data that reflects rare situations of this sort we have introduced a tab on each Donor page that reflects the projects or activities awarded to that donor or one of its subsidiary offices.

5️⃣ Introducing Call4Partners
Expand your network of partner organizations and build stronger consortiums that increase your chances of winning tenders and making changes happen. With Call4Partners you can launch an appeal to let other organizations know that you are looking for a partner to implement a project, streamline research and know-how exchange or establish a partnership to apply for a tender.
6️⃣ Services from DevelopmentAid under one tab
To enhance user experience on the largest development aid market intelligence platform in the world, we've arranged all the additional services offered by DevelopmentAid under one tab. Experts and organizations can now find the full range of services much more easily as they're all presented on one page:
DevelopmentAid Recruitment Solutions (DRS) to find and recruit the best candidates
Tenderwell App to manage all your bids, leads, and resources
Advertising tool, to let 500,000 professionals know about you
Job broadcast, to streamline recruitment
Tender/grant broadcast, to widen the audience
API integration, to ease the integration of the DevelopmentAid Application Programming Interface into your database
Market analysis and research, to deep dive into loads of development data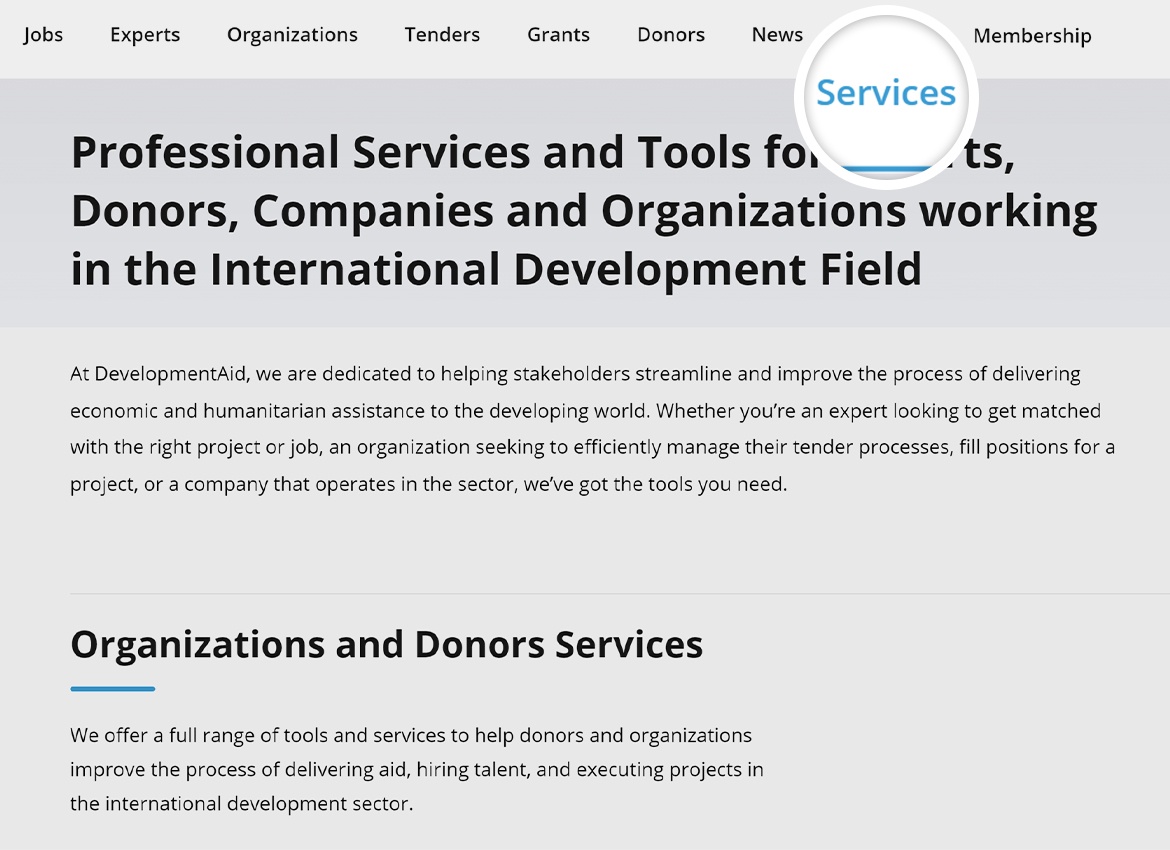 7️⃣ Finally, Comma is now considered as a search operator, 'OR', in Boolean searches
This feature helps to create lists of keywords even more easily than before by simply separating them with a comma in the Search menu.
When a user separates two terms using a comma, the search engine will return results with either one of the words, or a combination of both.
At DevelopmentAid, we know how important it is to facilitate tendering processes and save the time spent on working on a bid. That's why we constantly strive to improve the platform we operate and the apps connected to it (like Tenderwell). Try one of our Corporate Membership offers and improve your tendering procedures and prospects today.