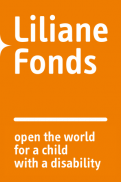 Member
Liliane Foundation
Member
Details
Legal residence:
Netherlands
Sectors:
Social Development, Youth
About
The Liliane Foundation aims at giving children and youngsters with disabilities, up to 25 years, in developing countries access to medical and social rehabilitation. One characteristic of this assistance is that it is provided in collaboration with local contact persons through direct, small-scaled and tailor-made help, supporting the children's personal growth and furthering the children's integration in society.
The help involves (para)medical treatment, surgery, appliances, (special) education, vocational training and income generating projects.