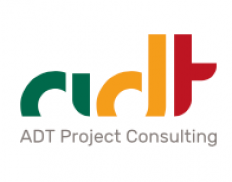 Member
ADT Project Consulting GmbH
Member
General
Partners/Competitors
•

110
General
Partners/Competitors
•
110
Details
Types:
Consulting Organization
Funding agencies:
EC, WB, Other, GIZ, Government, IFAD
Sectors:
Agriculture, Food Security, Livestock (incl. animal/bird production & health), Rural Development
About
Positioning: ADT is a specialist project management consulting firm for the agriculture and food sector, undertaking all necessary phases from the conceptualization and planning of tailored production systems and value chains, right through to their implementation and evaluation, thereby facilitating sustainable developments in agriculture and animal husbandry.
Portfolio: ADT's core competences include the provision of expert advice on setting up and developing agricultural service centers and service facilities in partner countries, as well as the planning and implementing of tailored training programs for various target groups in the agricultural sector. Such target groups are not limited to farmers and the employees of agricultural enterprises, but also include specialists in both the upstream and downstream sectors, agricultural organizations, self-help schemes and associations as well as the supervisory and auditing institutions.
Core Competency Livestock Farming: ADT consults on the technical implementation of development-oriented value chains for products of animal origin. ADT's expertise in animal breeding, animal identification, traceability, quality assurance, animal health and food safety really makes ADT stand out in its field.
Core Competency Arable Farming: With regards to arable farming, ADT has extensive international experience in imparting knowledge and skills on modern and ecologically sustainable arable farming systems. ADT has excellent connections to specialized plant breeding and agricultural technology institutions and associations.
Commitment to Quality: ADT is committed to high quality standards and places value on giving comprehensive technical advice and result-oriented project management.
Breadth of Experience: Based on ADT's high level of expertise and many years of experience in developing and emerging markets, it can provide concrete solutions based on the conditions in the respective partner countries.
Modern Teamwork: Using a digital ICT-cloud solution, ADT simplifies international technical cooperation. ADT makes it possible for the project participants to exchange specialist information with each other regarding project plans and to access all relevant information around the clock, wherever they are.
Commitment to Sustainability: ADT is committed to the principles of sustainability and its economic, ecological and social manifestations.
Standard Oriented: ADT makes an important contribution to the development of a modern, competitive and sustainable agriculture and food sector. Up-to-date standards regarding resource availability, the environment, health, food safety, animal welfare, international quality and safety as well as consumer expectations underlie ADT's work.