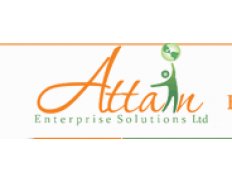 Details
Types:
Consulting Organization, Supplier
Funding agencies:
TMA, UNDP, WB
Sectors:
Information & Communication Technology, Logistics, Monitoring & Evaluation, Procurement, Public Administration, Risk Management (incl. insurance), SME & Private Sector
About
Attain Enterprise Solutions Ltd is a leading technology and solutions provider specializing in software develop­ment, systems support and I.T consultancy. Our expertise spans:
Software design and development
Proj­ect management
Systems audit
Information technology and management
Solutions deployment
Business process automation
Cloud Services
With over a decade of experience we can help streamline your business operations and transform your or­ganization. We employ proven best practices, processes to improve efficiency throughout your enterprise by improving services, levels, cutting down on operating costs thereby generating revenue growth.
The foundation of success is in our proficient and talented team of professionals who deliver a pool of extra ordinary expertise in both I.C.T. and management fields. Attain Enterprise Solutions has also structured stra­tegic partnerships with Microsoft where Attain Enterprise Solutions Ltd is a certified Microsoft Business solutions partner allowing it to sell and service a range of Microsoft products.