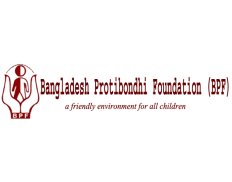 Protibondi Ponorbason Foundation
Details
Legal residence:
Bangladesh
Types:
Consulting Organization
Sectors:
Education, Health, Human Rights, Training
About
MAIN OBJECTIVE
"The children with disabilities and disadvantaged are included in the mainstream society with equal rights, opportunities and dignity within the protective environment".
VISION
The vision of BPF is that all children and person with disability in the country will be self-reliant, independent and integrated in the society for a better life with honor and dignity.
MISSION
The mission is to work for the treatment, education, rehabilitation, health, nutrition and protection of children and adults with disability through training in independent skills by developing, providing, organizing and setting up relevant services through training and facilities.