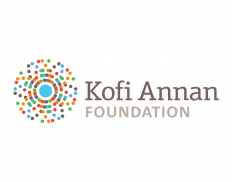 Member
Kofi Annan Foundation
Member
Details
Legal residence:
Switzerland
Funding agencies:
EC, Other
Sectors:
Civil Society & NGOs, Democratization, Human Rights, Humanitarian Aid & Emergency
About
The Kofi Annan Foundation is an independent not-for-profit organisation founded in 2007. The Foundation supports Mr. Annan to apply his unique experience and leadership in three key areas: peace and security; sustainable development; and human rights & the rule of law. Through mediation, political mentoring, advocacy, and advice, Mr. Annan seeks to strengthen the capacity of local and international actors to address pressing challenges. The Foundation provides analytical, communication, coordination and logistical resources that enable these objectives to be achieved.
The Foundation is funded by a mix of public and private donors, taking particular care to ensure that funding sources are beyond reproach and that contributions are politically untied.