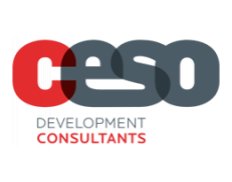 Member
CESO - Development Consultants
Member
Details
Legal residence:
Portugal
Types:
Consulting Organization
Funding agencies:
AfDB, DANIDA, EC, IADB, MCC, WB, Other, AFD, GIZ
Sectors:
Energy, Environment & NRM, Industry, Commerce & Services, Programme & Resource Management, Public Administration, Rural Development, SME & Private Sector, Transport
About
CESO is a consulting company in the field of international development with more than 40 years of experience, working with our partners, clients, and beneficiaries in the provision of technical assistance services, having delivered over 500 projects in 117 countries , funded by major international donors, and national governments.
Our intervention covers seven main areas:
- Partnerships and Financing for Development - Definition and Implementation of Strategic Partnerships and Management of Development Financing.
- Macro Economy, Statistics & Public Finance Management - Forecasting and Economic Planning, Public Investment, National Statistical Systems, PEFA Evaluation.
- Trade and Private Sector - Regional Economic Integration, International Trade Facilitation, SME Development, Industrialization Policy.
- Social Affairs - Educational and Vocational Training, Employability, Social Policies, Health Planning, Culture.
- Public Sector and Governance - Modernization of Public Administration, Decentralization and Local Development, Civil Society and Democratization.
- Rural Development - Agriculture and Agribusiness, Food Security, Land Management.
- Transport, Energy & Environment - Transport Infrastructure, Natural Resources Management, Environmental Management, Energy, Water and Sanitation, Climate Change.