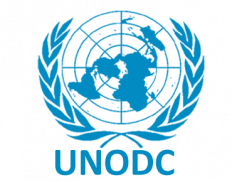 United Nations Office on Drugs and Crime Nigeria
General
Country strategy papers
•
0
Details
Other offices:
Brazil, Thailand, Philippines, Cambodia, Myanmar, Laos, South Africa, Iran, Niger, Ukraine, El Salvador, Tunisia, UAE, Senegal, Kenya, Libya, Kyrgyzstan, Romania, Lithuania, Pakistan, Jordan, Egypt, Kazakhstan, India, Bolivia, Russia, Colombia, Tajikistan, Somalia, Namibia, Panama, Austria, Afghanistan, Uzbekistan, Mexico, Bulgaria
Address:
UN House Abuja 581AO United Nation Road Phase 2, Garki Abuja
E-mail(s):
sylvester.atere@un.org
Contact person:
Mr Sylvester ATERE, Communications and Outreach Officer
Sectors:
Civil Society & NGOs, Health, Human Rights, Law
Description
For more than 25 years, UNODC, through its Country Office in Nigeria, has been cooperating with the Federal Government, its specialized agencies, the judiciary, as well as select State Governments, civil society and the private sector in making Nigeria safer from drugs, crime and terrorism.
In doing so, UNODC, as part of the United Nations Country Team, is contributing to Nigeria's achievement of the 2030 Agenda for Sustainable Development.
Presently, UNODC provides support in the areas of anti-corruption, counter-terrorism and the prevention of violent extremism, drug prevention, treatment and control, the fight against organized and maritime crime, action against trafficking in persons and smuggling of migrants, justice sector reform as well as the prevention of HIV/AIDS in prison settings and related to drug use.
Circumstantial eligible countries
By Tender Sectors and Organization Types
By Grant Sectors and Organization Types