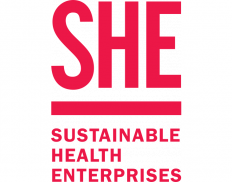 Sustainable Health Enterprises (SHE)
Details
Sectors:
Health, SME & Private Sector, Social Development, Training
About
Sustainable Health Enterprises (SHE), highlighted by Nicholas Kristof in The New York Times, is a social enterprise whose mission is to drive social and economic change through sustainable business development in emerging markets.
Its first initiative, SHE28, is addressing girls' and women's lack of access to affordable, eco-friendly menstrual pads and services.
SHE helps local women jumpstart their own sustainable and scalable business of manufacturing and distributing locally produced low-cost, eco-friendly menstrual pads. Coupling these new businesses with public health and hygiene education and advocacy should have a significant and sustainable social and economic impact on these communities.