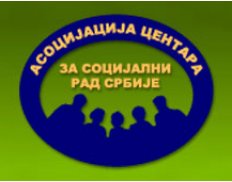 Asocijacija Centara za Socjalni Rad (CSR) Srbije / Association of Centers for Social Work of Serbia
Details
Funding agencies:
EC, Other, UNHCR
Sectors:
Civil Society & NGOs, Decentralization & Local Development, Health, Printing, Social Development
Nr. of employees:
1001-5000
About
Association of Centers for Social Work of Serbia is business and professional association, formed as an answer to the aggravating position of these institutions that are only conductors of direct social care protection on the territory of Serbia.
Period of economical instability, wars, international isolation and other problems which followed Serbia in the last years directly reflected on the work of social care centers. General social, economical and political situation caused considerable social pressure on the social care centers which were no longer in position to fulfill the needs of socially excluded groups (old people, refugees, invalids, single parents, unemployed people, families at risk, etc.). Significantly weaken Center (considering the staff, finances, facilities, etc.), considering the needs, as the only social care institution in the local community, couldn't manage to provide the availability and the quality for various services for the great number of vulnerable groups that needed protection.
In order to fulfill the real needs of the users and giving help and support to the ones who provide those services (social care center's employees in Serbia), in 2003. there was formed business and professional association - ASSOCIATION OF CENTERS FOR SOCIAL WORK OF SERBIA. It consists of all social care centers in Serbia - 153 centers with about 2000 professional employees. There are around 400.000 people in Serbia who are in the worse social position and who are under the social center care.
The main aims for the Association are:
Making the network of centers and articulation / or determining the common interests
Giving the complete information about European standards of social care and possibilities for improving citizen's position in case of social need
More important role of practical experts and wider local community in giving reformed solutions in social care and making the network of institutions, services and programs that are adequate for the citizens.
Informing the pubic about the social care problems
Development of human and technical capacities of centers
Improvement of cooperation with the local self-government, ministries in charge, and other institutions and similar institutions in the country and abroad
It publishes the newsletter of the GLAS CENTER, which contributed to better informing of the professional and general public about the activities and current topics in social protection. The bulletin is published four times a year, and in addition to the centers - members of the Association and local self-governments, the Voice of the Centers arrives at the addresses of our associates outside Serbia - Centers and Faculties for Social Work in Ljubljana, Zagreb and Sarajevo, representatives of the competent Ministry as well as many institutions and associations follow the work of the Association.