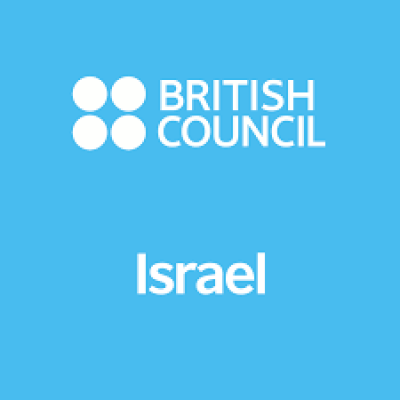 Details
Sectors:
Culture, Education
Other offices:
Vietnam, Jordan, Montenegro, Ecuador, Spain, Portugal, Bahrain, Algeria, Saudi Arabia, Libya, Sudan, Greece, Romania, Kuwait, Serbia, Namibia, Rwanda, Kosovo, Bosnia and Herzegovina, Zambia, Malawi, France, Egypt, Hong Kong, Qatar, Uzbekistan, Peru, Venezuela, Malaysia, Ethiopia, Ghana, Tanzania, Syria, South Sudan, Bulgaria, Sierra Leone, Ukraine, South Africa, Uganda, Nepal, Pakistan, Cyprus, Botswana, Georgia, China, Thailand, Sri Lanka, Morocco, Brazil, Belgium, Afghanistan, India, Nigeria, Armenia, Philippines, Bangladesh, Myanmar, Mexico, North Macedonia, Croatia, Kazakhstan, Russia, Indonesia, Turkey, Tunisia, Kenya, UK
About
British Council - Israel builds connections, understanding and trust between people in the UK and other countries through arts and culture, education and the English language.
The work is to build cultural relations between the UK and Israel and to create international opportunities. The company does this by working through education, the arts, the sciences and the English language. In 2011 our operational priorities are:
* Developing and implementing an ambitious UK-Israel scientific collaboration project in Regenerative Medicine
* Building a film project which includes breathing life into the new UK-Israel co-production film treaty and increasing the audiences for British film in Israel.
* Reaching all teachers of English in Israel with our fantastic portfolio of English language services and no less fantastic team;
* Developing new services and projects with the Arab community of Israel
* Building new partnerships between British and Israeli universities and encouraging more Israelis to study in the UK; and to start to see young Britons spending time in Israeli universities.