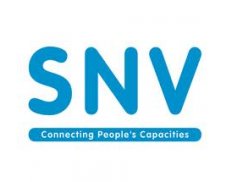 Details
Legal residence:
Ethiopia
Types:
Consulting Organization
Funding agencies:
EC, Other, UNICEF
Sectors:
Agriculture, Energy, Environment & NRM, Other, Water & Sanitation
Other offices:
Burkina Faso, South Sudan, Cambodia, Bhutan, Zimbabwe, Mozambique, Laos, Nepal, Uganda, Kenya, Benin, Albania, Nicaragua, Niger, Peru, Netherlands, Ecuador
About
SNV, in response to the 1974 drought in northern Ethiopia, started working on the Food for Work Programme, called Kobbo-Lalibella Road Construction project - which involved 6000 farmers.
Successfully completing the project, SNV started implementing other rural development projects focusing, particularly, on capacity development of key stakeholders in different sectors. Currently, we are working in agriculture, energy and Water, Sanitation and Hygiene sectors to making a lasting difference in the lives of people. In Agriculture, aligning its strategy with the Government of Ethiopia's Growth and Transformation Plan and Climate Resilient Green Economy, SNV works to alleviate poverty through increased income, food and nutrition security, sustainable markets, and climate change resilience for smallholder farmers. In energy, SNV is providing technical support to government in biogas, sustainable markets, clean fuel, cooking and heating, off-grid and mini-grid electricity. In WASH, we are facilitating access to improved drinking water services and sanitary facilities through enhancing local capacities to ensure functionality of water systems, WASH service delivery and sustained positive change in hygiene behaviour in WASH. SNV goes for ensuring that women, men and youth balance benefits from their efforts. SNV is working in 514 woredas of Afar, Amhara, Benishangul Gumz, Gambella, Oromia, Somali, Southern Nations Nationalities and Peoples Region, and Tigray National Regional States.