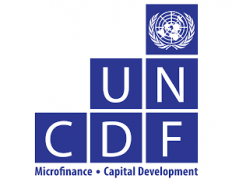 United Nations Capital Development Fund (Benin)
Details
Other offices:
Bangladesh, Cambodia, Papua New Guinea, Niger, Somalia, Nepal, Ethiopia, Burkina Faso, Rwanda, Togo, Ghana, Sierra Leone, South Africa, Burundi, Laos, Thailand, Zambia, Uganda, Guinea, China, Tanzania, Gambia, Mali, Malaysia, USA, Belgium, Senegal
Address:
c/o UNDP - Bureau du PNUD Zone Résidentielle, Lot n°111 Cotonou BP 506
E-mail(s):
mm4p.benin@uncdf.org
Contact person:
Esther Pan Sloane, Head, Partnerships, Policy and Communications
Sectors:
Agriculture, Decentralization & Local Development, Fundraising, Macro-Econ. & Public Finance
Nr. of employees:
201-500
Description
UNCDF has been active in Benin since 1981. Over the last 30 years, UNCDF has carried out projects to strengthen the decentralization process, strengthen national capacities to support local economic development, and improve food security.
Today, UNCDF offers "last mile" funding models to unlock public and private funds, particularly at the national level, to reduce poverty and encourage local economic development.
In financial inclusion, UNCDF implements the Mobile Money for the Poor (MM4P) program, supporting and cooperating with banks, operators and regulators of mobile networks to reach millions of customers currently excluded from the banking system.
In financing local development, UNCDF implements its Local Adaptation Financing Mechanism (LoCAL), which enables local governments to cope with rising costs of building resilience to change. climate change and natural disasters.
Circumstantial eligible countries