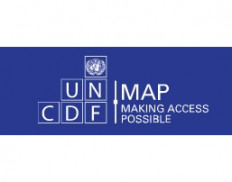 United Nations Capital Development Fund (UNCDF - Thailand)
Details
Other offices:
Bangladesh, Cambodia, Papua New Guinea, Niger, Somalia, Nepal, Ethiopia, Burkina Faso, Rwanda, Togo, Ghana, Sierra Leone, South Africa, Burundi, Laos, Zambia, Uganda, Guinea, China, Tanzania, Gambia, Benin, Mali, Malaysia, USA, Belgium, Senegal
Address:
BRH Office, 1st Floor, Service Building, UNESCAP Building, Ratchadamnoen Nok Avenue Bangkok 10200 Thailand
E-mail(s):
vincent.wierda@uncdf.org
Contact person:
Vincent Wierda - Regional Coordinator
Sectors:
Macro-Econ. & Public Finance
Nr. of employees:
501-1000
Description
While Thailand currently boasts the highest level of formal financial usage in the South East Asian region, current high levels of financial inclusion and access do not necessarily translate into availability of all financial services across all income groups. Featuring a diverse regulatory environment that covers everything from pawnshops to savings groups, Thailand's main area for access improvement lies within the provision of appropriate, relevant insurance and credit products for different groups working within the informal market.
Though there are already high levels of financial access in Thailand, there are many factors that will shape the future nature of financial provision for lower-income households. These include:
Economic growth: Expected increase in the incomes of Thais increases demand for financial services. It also leads to an increasing demand for more sophisticated financial services.
Migration patterns: Continued internal and cross-border migration will see an increase in demand for remittance services.
Informality: The majority of employment in Thailand is informal in nature (62%), either through self-employed microenterprises, farming or piece work, and this trend will continue.
Stable society with strong social capital: The strong cultural values placed on cohesive households and supportive communities have generated Thailand's successful signature network of community-based financial institutions.
Connectivity: Thailand enjoys high levels of access to mobile phones and the internet. 99% of the population use a mobile phone, 88% own a mobile phone, 50% use a mobile broadband-based phone (smart phone), and 26% currently have internet access. This is likely to drive new business models for financial service delivery but will require concerted effort in conjunction with the government driven / affected entities (SFIs and CBFIs).
Circumstantial eligible countries
By Tender Sectors and Organization Types
By Grant Sectors and Organization Types