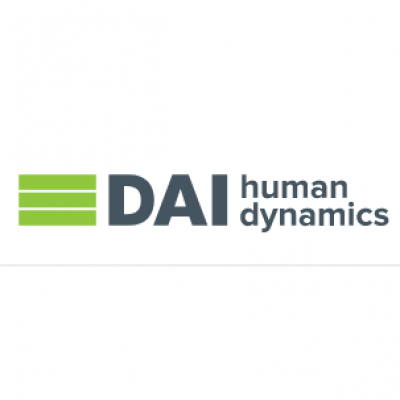 Member
DAI Human Dynamics (Serbia)
Member
Details
Types:
Consulting Organization
Sectors:
Administration, Education, Environment & NRM, Health, Inst. Devt. & Cap. building, Justice Reform, Monitoring & Evaluation, Transport
Other offices:
Ethiopia, Bangladesh, Nepal, Morocco, Malawi, Egypt, Georgia, Thailand, Palestine / West Bank & Gaza, Iraq, Afghanistan, Kenya, Nigeria, Tajikistan, Indonesia, Liberia, Pakistan, Belgium, Turkey, Germany, Jordan, Bulgaria, South Africa, USA, UK, Austria
About
DAI Human Dynamics is a specialised provider of consulting services for public sector clients, with a focus on transition and developing countries. We operate in institutional, infrastructure and judicial development, helping clients achieve success. We deliver outstanding results and impact for clients at all levels, from international organisations and national governments to regional authorities and local municipalities.
Human Dynamics commits to innovation and operational excellence. We help our clients face tomorrow's challenges for the public sector and for society. In particular, our work entails helping countries to develop, integrate and implement workable poverty reduction strategies through improved policy and financial management functions. Human Dynamics supports countries to achieve growth and competitiveness through improved infrastructure, access to training and education or by finding ways to improve the income earning capacity of the population through targeted policies and capacity building activities. We help to reduce social vulnerability with quality, affordable healthcare, social protection frameworks or with information dissemination and awareness raising activities, through the promotion of human rights. Human Dynamics also has vast experience in energy and environmental projects – assuring our clients sustainable development.
The work we do optimises our clients' management of public governance, social and economic development and the sustainable use of natural resources. And that is because we accommodate the specific needs of our clients in every aspect of our work, and always tailor solutions to local circumstances. Every year, we invest in research and in the development of powerful solutions - which build the foundation for market-leading results that endure far beyond the completion of our projects.