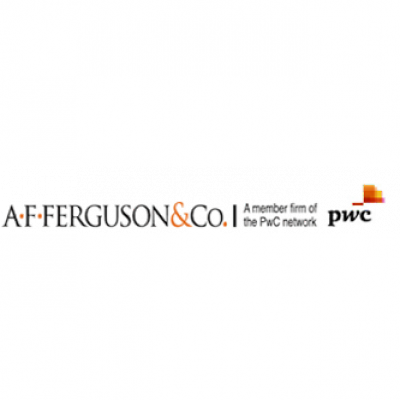 A. F. Ferguson & Co. (PwC Pakistan)
Details
Legal residence:
Pakistan
Types:
Consulting Organization
Funding agencies:
ADB, UNDP, WB, GIZ, UNOPS
Sectors:
Audit, Finance & Accounting
Nr. of employees:
1001-5000
Other offices:
Benin, Poland, Japan, Rwanda, Caribbean Netherlands, Venezuela, Turks and Caicos, Turkmenistan, Taiwan, Eswatini (Swaziland), South Korea, Sierra Leone, Senegal, Puerto Rico, Oman, New Caledonia, Monaco, Maldives, Malawi, Libya, Kyrgyzstan, Kuwait, Israel, Isle of Man, Ireland, Guinea, Guatemala, Aruba, Algeria, Bahrain, Fiji, Equatorial Guinea, El Salvador, Ecuador, Costa Rica, Congo, Channel Islands, Chad, Cayman Islands, British Virgin Islands, Bermuda, Belarus, Bangladesh, Chile, Peru, Gibraltar, Zimbabwe, Saudi Arabia, Switzerland, Zambia, New Zealand, UAE, Greece, Finland, Denmark, Canada, Austria, Laos, Honduras, Indonesia, Hong Kong, Morocco, Tunisia, Papua New Guinea, Myanmar, Japan, Uganda, Singapore, Bahamas, Liberia, Sudan, Lebanon, Barbados, Spain, Mexico, Egypt, Thailand, Norway, Angola, Portugal, Georgia, India, Nicaragua, Ghana, Kenya, Jamaica, Germany, Argentina, Ecuador, Bolivia, Trinidad and Tobago, Colombia, Paraguay, Uruguay, Moldova, Romania, Australia, Russia, Nigeria, Cape Verde, Botswana, USA, France, Italy, Gabon, Cambodia, Namibia, Costa Rica, Mozambique, Madagascar, Cameroon, Philippines, Netherlands, Dem. Rep. Congo, Dominican Republic, Palestine / West Bank & Gaza, Kosovo, Slovenia, Slovakia, Poland, Montenegro, Malta, Lithuania, Latvia, Estonia, Cyprus, Bulgaria, Bosnia and Herzegovina, Cote d'Ivoire, Vietnam, China, Saint Lucia, Mongolia, Luxembourg, Tanzania, Czech Republic, Hungary, South Africa, Brazil, Iraq, Panama, Azerbaijan, North Macedonia, Malaysia, UK, Mauritius, Kazakhstan, Sweden, Turkey, Serbia, Sri Lanka, Jordan, Albania, France, Armenia, Croatia, Belgium, Ukraine, Uzbekistan
About
A.F.Ferguson & Co. is one of the leading public accounting, business advisory and corporate services firms in Pakistan.
We strive to provide a broad and coordinated range of excellent, timely, value-for-money services that help our clients make the best business decisions. We are committed to meeting the expectations of our clients by maintaining international standards and fully exploiting the advantages of technology.
Our clients are those blue chip companies, financial institutions, multinationals and others who demand a firm with the highest reputation for integrity and quality. The Pakistan firm of A. F. Ferguson & Co. came into existence on November 1, 1952 when the old firm of the same name was split into two independent entities. The origin of the firm however goes back to 1893. The Pakistan firm of A.F.Ferguson & Co., was formed on November 1, 1952 by a deed, signed and stamped in Pakistan, at Karachi.
At present the firm has 42 partners based in three offices i.e. Karachi, Lahore and Islamabad.
A.F.Ferguson & Co. is a member firm of the PwC network, the world largest professional services organization. The firm has ready access to the technical expertise present in the PwC network firms worldwide and also participates in their training programmes. Selected members of staff are seconded to PwC offices abroad to gain international exposure. The firm's work standards are subject to extensive reviews on a regular basis by PwC and also by the Quality Control Review Committee of The Institute of Chartered Accountants of Pakistan.
Drawing on the knowledge and skills of more than 223,000 people in 157 countries, PwC provides a full range of business services to leading global, national and local companies and to public institutions. These services include audit, accounting and tax advice; management, information technology and human resource consulting; financial advisory services including mergers and acquisitions and business process outsourcing.