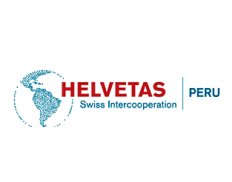 HELVETAS Swiss Intercooperation - PERÚ
Details
Sectors:
Agriculture, Decentralization & Local Development, Inst. Devt. & Cap. building, Programme & Resource Management, Social Development
Other offices:
Bolivia, Sri Lanka, Burkina Faso, Haiti, Guatemala, USA, Mozambique, Pakistan, Honduras, Vietnam, Cameroon, Tanzania, Albania, Benin, Myanmar, Madagascar, Ethiopia, Mali, Vietnam, Tajikistan, Germany, Nepal, Kosovo, Laos, Bangladesh, Kyrgyzstan, Switzerland
About
Helvetas is a Swiss NGO with a presence in 30 countries. One of them is Peru, with more than 30 years of presence in Peru. It is committed to social inclusion, the development of thematic competences in economic development and resilience to climate change, in the capacity of management and transparent administration of funds, application of methodologies and proven tools, in continuous improvement and learning and joint innovation.
Helvetas is part of a network of independent development organizations, with headquarters in Switzerland, Germany and the United States. We provide real change in the lives of more than three million disadvantaged people each year. We implement development projects in the areas of water and sanitation, agriculture and nutrition, education, economic development, democracy and peace, and climate and environment. Helvetas also provides emergency response after disasters.