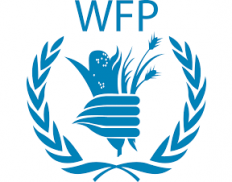 World Food Programme (Libya)
Details
Other offices:
Guinea-Bissau, Sao Tome and Principe, Fiji, Germany, Honduras, China, Guatemala, UK, Gambia, Algeria, Tajikistan, Guinea, Tunisia, Japan, El Salvador, Eswatini (Swaziland), Liberia, South Korea, Canada, Benin, Dominican Republic, Ukraine, Armenia, Burundi, Palestine / West Bank & Gaza, Central African Republic, North Korea, Timor-Leste, Indonesia, Nicaragua, Belgium, Panama, Angola, Panama, Ecuador, Burkina Faso, Niger, Peru, Namibia, Bosnia and Herzegovina, Albania, Sri Lanka, Chad, France, Jordan, Bhutan, Syria, Myanmar, Colombia, Kyrgyzstan, Djibouti, Lesotho, Barbados, Rwanda, Germany, Cote d'Ivoire, Nepal, Turkey, Nigeria, Brazil, Cameroon, South Africa, Philippines, Madagascar, Ethiopia, Iraq, Lebanon, Dem. Rep. Congo, Afghanistan, Somalia, Tanzania, Yemen, USA, Egypt, Uganda, Mozambique, India, Malawi, Haiti, Kenya, Mali, Thailand, Pakistan, Bolivia, South Sudan, Ghana, Denmark, Sudan, UAE, Sierra Leone, Zambia, Cambodia, Mauritania, Bangladesh, Italy, Zimbabwe
Address:
Immeuble Le Prestige, Tour F, Rue du lac Windemere, Les Berges du Lac 1 1053
E-mail(s):
wfp.libya@wfp.org
Contact person:
Procurement Unit
Sectors:
Disaster Reduction , Food Security, Humanitarian Aid & Emergency
Description
The fourth largest country in Africa, Libya is largely covered by desert and sparsely inhabited. Due to the harsh natural environment, agricultural production is very limited. Even before conflict engulfed the country in 2011, 80 percent of the population's food requirements were imported.
At that time Libya, as one of the world's most prolific oil-producing nations, maintained large trade surpluses. Although the country's oil wealth did not percolate down to the wages of ordinary citizens, until 2011 the cost of food at household level was offset to some extent by a welfare state that offered free education and healthcare. Now, the country has a trade deficit and is gripped by a civil war opposing tribal groups, Islamist groups, various other militias and administration forces.
Libya's population is suffering a major humanitarian crisis. This involves poverty, insecurity, gender-based violence, mass displacement, shortages of food and cash in banks, and frequent power cuts.
According to the 2017 Humanitarian Needs Overview, food insecurity among the affected population is increasing due to protracted displacement, disruption to markets and lower food production. As a result, the most vulnerable are exposed to a high risk of inadequate food consumption. Unable to meet their food needs, many families are forced into negative coping strategies such as spending savings, cutting their number of daily meals and reducing non-food related expenses, particularly in health and education.
WFP's October 2016 Rapid Food Security assessment indicated that some 17 percent of internally displaced people are food insecure. This represents an 11 percent increase since 2015. Overall, 60 percent of IDPs are vulnerable to food insecurity. IDPs, returnees and refugees are among the most vulnerable population groups in need of food assistance
Before the crisis, the World Food Programme (WFP) had a minimal presence in Libya, with the country operating only as a logistics corridor between Sudan and Chad. Today, we aim to support the most affected and vulnerable people, whose food security has been compromised by the fighting. Due to the conflict and political instability, the Libya UN Country Team was evacuated mid-July 2014 and continues to operate remotely from Tunisia.
WFP provides food assistance throughout Libya primarily through four local Cooperating Partners: LibAid, Kafaa Development Foundation, Sheikh Taher Azzawi Charity Organization (STACO) and Ayady Al Khair Society (AKS).
WFP collaborates with the UN Country Team and the Security Management Team to coordinate its activities with other UN agencies and assess the political and security situations that affect people most in need throughout Libya. WFP continues to explore options to expand its operational partnership base in order to ensure that as the situation changes, it can send food to hard-to-reach conflict-affected areas. WFP's partners work closely with local crisis committees, which represent communities and provide WFP with the information needed to assess where life-saving food assistance is most urgently needed.

Circumstantial eligible countries
By Tender Sectors and Organization Types
By Grant Sectors and Organization Types