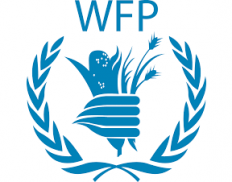 World Food Programme (Ethiopia)
Details
Other offices:
Guinea-Bissau, Sao Tome and Principe, Fiji, Germany, Honduras, China, Guatemala, UK, Gambia, Algeria, Tajikistan, Guinea, Tunisia, Japan, El Salvador, Eswatini (Swaziland), Liberia, South Korea, Canada, Benin, Dominican Republic, Ukraine, Armenia, Burundi, Palestine / West Bank & Gaza, Central African Republic, North Korea, Timor-Leste, Indonesia, Nicaragua, Belgium, Panama, Angola, Panama, Ecuador, Burkina Faso, Niger, Peru, Namibia, Bosnia and Herzegovina, Albania, Sri Lanka, Chad, France, Jordan, Bhutan, Syria, Myanmar, Colombia, Kyrgyzstan, Djibouti, Lesotho, Barbados, Rwanda, Germany, Cote d'Ivoire, Nepal, Turkey, Nigeria, Brazil, Cameroon, South Africa, Philippines, Madagascar, Iraq, Lebanon, Dem. Rep. Congo, Afghanistan, Somalia, Libya, Tanzania, Yemen, USA, Egypt, Uganda, Mozambique, India, Malawi, Haiti, Kenya, Mali, Thailand, Pakistan, Bolivia, South Sudan, Ghana, Denmark, Sudan, UAE, Sierra Leone, Zambia, Cambodia, Mauritania, Bangladesh, Italy, Zimbabwe
Address:
Kifle Ketema Kirkos, Kebele 26, House No. 1041, Marshall Tito Avenue, Addis Ababa, Ethiopia. PO Box 25584, Code 1000, Addis Abab
E-mail(s):
wfp.addisababa@wfp.org
Contact person:
Procurement
Sectors:
Disaster Reduction , Environment & NRM, Food Security, Humanitarian Aid & Emergency, Inst. Devt. & Cap. building
Description
Ethiopia's current five-year growth and transformation plan has the aim of moving the country towards middle-income status by 2025 by sustaining accelerated growth and speeding up structural transformation. The national productive safety net programme is one of the largest social protection schemes in Africa, serving an average of 8 million people every year. The national nutrition programme has the aim of integrating nutrition-specific and -sensitive interventions in many sectors through a lifecycle approach to nutrition. The national school feeding programme is expected ultimately to attain national coverage. The recently adopted national comprehensive refugee response strategy has the aim of gradually phasing out refugee camps and facilitating the socio-economic integration of refugees into host communities enabling them to become self-reliant.
Circumstantial eligible countries
By Tender Sectors and Organization Types
By Grant Sectors and Organization Types