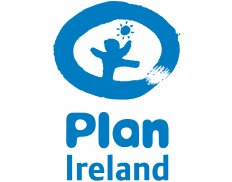 Member
Plan International Ireland
Member
Details
Sectors:
Education, Youth
Other offices:
Fiji, Lebanon, Sri Lanka, Liberia, Italy, Mali, South Sudan, Zambia, Jordan, Togo, Nigeria, Japan, Ethiopia, Nepal, Mozambique, Benin, Malawi, France, Egypt, Central African Republic, Hong Kong, Rwanda, Burkina Faso, Guinea-Bissau, Myanmar, Zimbabwe, Ghana, Pakistan, Philippines, Guinea, Vietnam, Paraguay, Honduras, Peru, El Salvador, Colombia, Nicaragua, Guatemala, Ecuador, Brazil, Bolivia, Dominican Republic, Indonesia, Bangladesh, India, Spain, Cambodia, Uganda, Niger, Kenya, Haiti, Canada, Cameroon, Sierra Leone, Belgium, Finland, Sweden, Germany, Australia, UK
About
Established in 2003, Plan Ireland is a child-centred community development organisation, part of Plan International which itself was founded over 76 years ago. We are an independent organisation with no religious, political or governmental affiliations.
Plan's vision is of a world in which all children realise their full potential in societies which respect people's rights and dignities.
Plan adopts a child-centred community development (CCCD) approach in all its work which has as its central tenet that children, families and communities are encouraged and enabled to become active and leading participants in their own development.
This approach enhances their ability and opportunity to work together with others to address the causes and consequences of child poverty at all levels. Plan's CCCD approach is guided by the UN's Convention on the 'Rights of the Child'