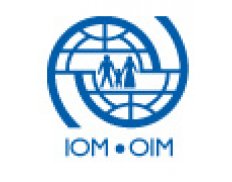 International Organization for Migration, Turkey
Details
Other offices:
Vietnam, Rwanda, Cambodia, Bulgaria, Central African Republic, Papua New Guinea, El Salvador, Burkina Faso, Costa Rica, Mauritius, Zambia, Uganda, Spain, Armenia, Colombia, Timor-Leste, Zimbabwe, Cyprus, Turkmenistan, Hong Kong, Mozambique, Bosnia and Herzegovina, Bahrain, Thailand, Kazakhstan, Belarus, Italy, Mali, Algeria, Guinea, Cote d'Ivoire, Tajikistan, Ethiopia, Syria, Mauritania, Gambia, Lebanon, Djibouti, China, Jordan, Burundi, Cameroon, Sierra Leone, Sri Lanka, Nigeria, Georgia, Micronesia, Kuwait, Tanzania, Dem. Rep. Congo, Egypt, Haiti, Malaysia, Senegal, Vanuatu, Mongolia, South Sudan, Morocco, Sudan, Afghanistan, Bolivia, Yemen, Ghana, Libya, Iraq, Australia, Switzerland, UK, Kenya, Tunisia, USA, Uzbekistan, Myanmar, Germany, Philippines, Thailand, North Macedonia, Somalia, Austria, Liberia, Pakistan, Bangladesh, Ukraine, Nepal, Belgium, Serbia, Slovenia, Azerbaijan, Greece, Kosovo
Address:
Birlik Mahallesi 2.cadde no:11 United Nations Birlik Ankara. Turkey
E-mail(s):
ankmission@iom.int
Description
IOM is committed to the principle that humane and orderly migration benefits migrants and society.
As the leading international organization for migration, IOM acts with its partners in the international community to:
Assist in meeting the growing operational challenges of migration management.
Advance understanding of migration issues.
Encourage social and economic development through migration.
Uphold the human dignity and well-being of migrants.
Circumstantial eligible countries
By Tender Sectors and Organization Types
By Grant Sectors and Organization Types