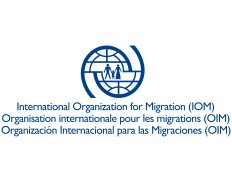 International Organization for Migrationn (Germany)
General
Country strategy papers
•
0
Details
Other offices:
Vietnam, Rwanda, Cambodia, Bulgaria, Central African Republic, Papua New Guinea, El Salvador, Burkina Faso, Costa Rica, Mauritius, Zambia, Uganda, Spain, Armenia, Colombia, Timor-Leste, Zimbabwe, Cyprus, Turkmenistan, Hong Kong, Mozambique, Bosnia and Herzegovina, Bahrain, Thailand, Kazakhstan, Belarus, Italy, Mali, Algeria, Guinea, Cote d'Ivoire, Tajikistan, Ethiopia, Syria, Mauritania, Gambia, Lebanon, Djibouti, China, Jordan, Burundi, Cameroon, Sierra Leone, Sri Lanka, Nigeria, Georgia, Micronesia, Kuwait, Tanzania, Dem. Rep. Congo, Egypt, Haiti, Malaysia, Senegal, Vanuatu, Mongolia, South Sudan, Morocco, Sudan, Afghanistan, Bolivia, Yemen, Ghana, Libya, Iraq, Australia, Switzerland, UK, Kenya, Tunisia, USA, Uzbekistan, Myanmar, Philippines, Thailand, North Macedonia, Somalia, Austria, Liberia, Pakistan, Bangladesh, Ukraine, Nepal, Belgium, Serbia, Slovenia, Azerbaijan, Greece, Turkey, Kosovo
Address:
Frankenstraße 210 90461 Nürnberg, Germany
E-mail(s):
iom-germany@iom.int
Contact person:
Dr. Frank Laczko - Director
Phone:
+ 49 911 43000, +493027877820
Awards in:
Latin America and the Caribbean, Northern America
Sectors:
Fundraising, Migration
Description
Germany has been a member of IOM since 1954, thus is one of the longest standing members. The official seat of IOM in Germany is in Berlin. There is a sub-office in Nuremberg and a presence at the airport in Frankfurt am Main. In close cooperation with governmental and non-governmental partners IOM Germany implements national and international projects in the area of migration. The main areas of activity in Germany are:
- Assisted Voluntary Return and Reintegration
- Third Country Migration
- Counter Trafficking
- Integration
IOM Germany promotes and strengthens relations and liaises with relevant counterparts in government, international organizations, the private sector and other partners at the national level with a view of creating strategic partnerships. The mission is also responsible for fundraising in Germany for global, regional and national programmes and projects and for humanitarian assistance in crisis regions and post-war regions.
Circumstantial eligible countries