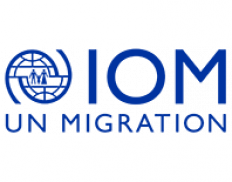 International Organization for Migration (Somalia)
Details
Other offices:
Vietnam, Rwanda, Cambodia, Bulgaria, Central African Republic, Papua New Guinea, El Salvador, Burkina Faso, Costa Rica, Mauritius, Zambia, Uganda, Spain, Armenia, Colombia, Timor-Leste, Zimbabwe, Cyprus, Turkmenistan, Hong Kong, Mozambique, Bosnia and Herzegovina, Bahrain, Thailand, Kazakhstan, Belarus, Italy, Mali, Algeria, Guinea, Cote d'Ivoire, Tajikistan, Ethiopia, Syria, Mauritania, Gambia, Lebanon, Djibouti, China, Jordan, Burundi, Cameroon, Sierra Leone, Sri Lanka, Nigeria, Georgia, Micronesia, Kuwait, Tanzania, Dem. Rep. Congo, Egypt, Haiti, Malaysia, Senegal, Vanuatu, Mongolia, South Sudan, Morocco, Sudan, Afghanistan, Bolivia, Yemen, Ghana, Libya, Iraq, Australia, Switzerland, UK, Kenya, Tunisia, USA, Uzbekistan, Myanmar, Germany, Philippines, Thailand, North Macedonia, Austria, Liberia, Pakistan, Bangladesh, Ukraine, Nepal, Belgium, Serbia, Slovenia, Azerbaijan, Greece, Turkey, Kosovo
Address:
Adan Abdulle International Airport (AAIA) area, Mogadishu, Somalia
E-mail(s):
fabdulle@tissom.org
Contact person:
Fahad Warsame ABDULLE | Project Advisor
Description
Somalia - More people are fleeing to the Horn of Africa as the conflict in Yemen escalates. So far a total of 14,529 arrivals have been registered. Of these 9,703 have arrived in Djibouti and 4,826 in Somalia,
In the first week of May, Somalia received 1,038 people, 969 of them Somalis, who arrived at the ports of Bossaso and Berbera. Puntland has registered 3,276 arrivals since March – the start of the crisis in Yemen – and in Somaliland the number has reached 1,550.
In Puntland, IOM has provided onward transportation assistance to 118 individuals. A further 110 migrants are undergoing verification at a transit centre and are expected to travel in the coming days. Another 541 returnees are currently in the transit centre in Bossaso waiting for transportation assistance, but IOM and its humanitarian partners say they are running out of funds to provide assistance.
"We have reached the capacity of the transit centre and will not be able to admit new arrivals unless measures are taken to urgently support those currently waiting for help to return to their areas of origin," says IOM Somalia Operations Officer Abdikadir Abdow.
The majority of arrivals in Somalia are Somali returnees who had sought refuge in Yemen because of the conflict in Somalia, but are now in threat of being displaced once more.
Circumstantial eligible countries
By Tender Sectors and Organization Types
By Grant Sectors and Organization Types