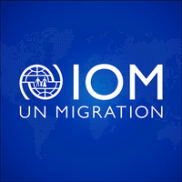 International Organization for Migration Greece
General
Country strategy papers
•
0
Details
Other offices:
Vietnam, Rwanda, Cambodia, Bulgaria, Central African Republic, Papua New Guinea, El Salvador, Burkina Faso, Costa Rica, Mauritius, Zambia, Uganda, Spain, Armenia, Colombia, Timor-Leste, Zimbabwe, Cyprus, Turkmenistan, Hong Kong, Mozambique, Bosnia and Herzegovina, Bahrain, Thailand, Kazakhstan, Belarus, Italy, Mali, Algeria, Guinea, Cote d'Ivoire, Tajikistan, Ethiopia, Syria, Mauritania, Gambia, Lebanon, Djibouti, China, Jordan, Burundi, Cameroon, Sierra Leone, Sri Lanka, Nigeria, Georgia, Micronesia, Kuwait, Tanzania, Dem. Rep. Congo, Egypt, Haiti, Malaysia, Senegal, Vanuatu, Mongolia, South Sudan, Morocco, Sudan, Afghanistan, Bolivia, Yemen, Ghana, Libya, Iraq, Australia, Switzerland, UK, Kenya, Tunisia, USA, Uzbekistan, Myanmar, Germany, Philippines, Thailand, North Macedonia, Somalia, Austria, Liberia, Pakistan, Bangladesh, Ukraine, Nepal, Belgium, Serbia, Slovenia, Azerbaijan, Turkey, Kosovo
Address:
Dodekanisou 6, Alimos, Athens 174 56, Greece
E-mail(s):
iomathens@iom.int
Contact person:
Gianluca Rocco
Phone:
+30.2 10 991 90 40
Sectors:
Civil Society & NGOs, Migration, Social Development, Youth
Description
The International Organization for Migration was founded in December 1951, operating as the Intergovernmental Committee for European Migration (ICEM). Today, 67 years on, IOM is the world leading intergovernmental UN Organization for migration. IOM Greece, as a founding member of IOM, has a long cooperation experience with the Greek Government and the civil society, aiming at helping and supporting migrants.
As the leading international organization for migration, IOM always acts with safety and dignity among its partners in the international community in order to:
Assist in meeting the growing operational challenges of migration management;
Advance understanding of migration issues;
Encourage social and economic development through migration.
IOM implements projects aiming at a successful social and labor migrant integration, legal and orderly migration to EU and non EU countries, enhancement of accommodation facilities, improvement of migrants' living conditions, counter of racism, xenophobia and human trafficking.
ACTIVITIES
Assisted Voluntary Return and Reintegration

Relocation to other EU member states

Site management support

Migrant integration in collaboration with the Greek municipalities

Primary health care with implementing partners

Safe zones for unaccompanied children

Education of migrant and refugee children

Circumstantial eligible countries