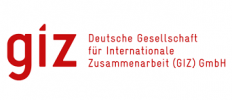 Deutsche Gesellschaft für Internationale Zusammenarbeit (Colombia)
Details
Other offices:
Syria, Iraq, Djibouti, Zimbabwe, Germany, Peru, Paraguay, Ecuador, Chile, Brazil, Bolivia, Dominican Republic, Nicaragua, Mexico, Honduras, Guatemala, El Salvador, Costa Rica, Montenegro, North Macedonia, Kosovo, Georgia, Bulgaria, Bosnia and Herzegovina, Ukraine, Azerbaijan, Armenia, Vietnam, UAE, Uzbekistan, Timor-Leste, Tajikistan, Saudi Arabia, Palestine / West Bank & Gaza, Pakistan, Nepal, Myanmar, Mongolia, Sri Lanka, Thailand, Lebanon, Laos, Kyrgyzstan, Cambodia, Kazakhstan, Turkey, Indonesia, China, Afghanistan, Uganda, Tunisia, Chad, Togo, Tanzania, South Sudan, Sudan, Somalia, Liberia, Zambia, Rwanda, Niger, Namibia, Mozambique, Mauritania, Morocco, Mali, Malawi, Madagascar, Libya, Sierra Leone, Lesotho, Dem. Rep. Congo, Guinea, Ghana, Cote d'Ivoire, Burundi, Botswana, Algeria, Egypt, Yemen, India, Cameroon, Nigeria, Albania, Ethiopia, Bangladesh, Jordan, Philippines, Senegal, Serbia, Kenya, Moldova, South Africa, Benin, Burkina Faso, Russia, Belgium
Address:
Calle 125 No.19-24, oficina 501 Bogotá - Colombia
E-mail(s):
giz-kolumbien@giz.de
Contact person:
Peter Luhmann, Country Director
Sectors:
Poverty Reduction
Description
Germany and Colombia can look back on more than 50 years of cooperation.
GIZ's projects and programmes in Colombia on behalf of the German Federal Ministry for Economic Cooperation and Development (BMZ) focus mainly on the following priority areas:
Peacebuilding/crisis prevention: rule of law, transitional justice, peacebuilding and the prevention of violence

Environmental policy and conservation: sustainable management of natural resources, climate change mitigation and adaptation, prevention of natural disasters

Sustainable economic development: development of the rural economy, "green" products and business models.

Circumstantial eligible countries
By Tender Sectors and Organization Types
By Grant Sectors and Organization Types