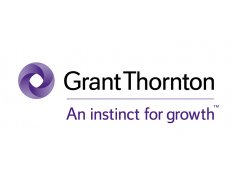 Details
Types:
Consulting Organization
Funding agencies:
EBRD, EC, EIB, AFD
Sectors:
Audit, Finance & Accounting
Nr. of employees:
1001-5000
Other offices:
Burkina Faso, Austria, Saudi Arabia, Kosovo, Botswana, Tonga, Sint Maarten, Mongolia, Zambia, Egypt, Lebanon, Panama, Kazakhstan, Belize, UAE, Togo, Azerbaijan, Tunisia, Cameroon, Guinea, Italy, Afghanistan, Tanzania, China, Uganda, Gabon, Mozambique, Singapore, Ireland, Kenya, Malawi, Peru, Mexico, Brazil, Ethiopia, Philippines, New Zealand, Slovakia, Bangladesh, Belarus, Moldova, Albania, Gibraltar, Sweden, Zimbabwe, Algeria, Luxembourg, Belgium, Honduras, Kyrgyzstan, Romania, Croatia, Czech Republic, Georgia, South Africa, Indonesia, Germany, Spain, Pakistan, Yemen, Morocco, Uzbekistan, Uruguay, Tajikistan, India, North Macedonia, USA, Namibia, Cambodia, Senegal, Serbia, UK, Turkey, Greece, Russia, Colombia, Nicaragua, Argentina, Bulgaria, Vietnam, Ukraine, Armenia
About
Grant Thornton France is one of the leaders in its sector, thanks in part to the breadth and efficiency of its global organization.
The presence of member firms in more than 100 countries around the world allows us to offer a complete and multidisciplinary range of services to French executives whose needs require a global approach.
Our brand promise clearly illustrates our positioning and our commitment. We provide business leaders with the means to realize their ambitions.
For Grant Thornton, Business Growth is the virtuous consequence of many factors that unite with each other, create perfect chemistry: whether external or organic, growth is a major issue beyond profitability. It is an evolution at the human and managerial level, but also in the setting up of processes.
We impose a culture of excellence in our know-how and our know-how to understand in depth the stakes of our customers and accompany them towards a growth in the long term.
Moreover, it is because we are at their side that we can help them preserve and create value, but also innovate in order to increase their competitiveness, thanks to advice adapted to the objectives of Growth of dynamic organizations.
Our strengths
Our presence across 25 offices in France allows us to develop a real proximity with business leaders,
We attract the best talents thanks to the visibility of our brand,
We have an unrivaled reputation and differentiating positioning as the leading Audit and Advisory Group serving dynamic organizations,
Our experts are asked to bring their vision of the group's businesses to the economic media,
Our teams have access to methodologies and tools to enhance quality, reduce operational costs and mitigate risk.
Our Human Capital
Our professionals integrate a company where everyone is listened to, recognized at its fair value and has the opportunity to make the difference every day,
Our employees join a leading firm ,
Our teams participate in rewarding and ambitious missions, both nationally and internationally,
Our employees have access to high level training programs to strengthen their technical skills, leadership andmanagement skills .
There are many opportunities for them to unleash their own potential; they can take advantage of the many mobility opportunities around the world.
Our clients
They benefit from important local capacities delivering tailor-made solutions that meet the main challenges of their structure,
They have access to consistent quality services in terms of Audit and Consulting in France and around the world,
They take advantage of our perfect local knowledge of the industrial sectors and our technical expertise,
They enjoy the advice of a globally recognized organization.