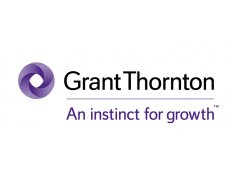 Details
Types:
Consulting Organization
Funding agencies:
ADB, EBRD, KFW, WB, SDC
Sectors:
Audit, Finance & Accounting, Grants & Grant Schemes
Other offices:
Burkina Faso, Austria, Saudi Arabia, Kosovo, Botswana, Tonga, Sint Maarten, Mongolia, Zambia, Egypt, Lebanon, Panama, Kazakhstan, Belize, UAE, Togo, Azerbaijan, Tunisia, Cameroon, Guinea, Italy, Afghanistan, Tanzania, China, Uganda, Gabon, Mozambique, Singapore, Ireland, Kenya, Malawi, Peru, Mexico, Brazil, Ethiopia, Philippines, New Zealand, Slovakia, Bangladesh, Belarus, Moldova, Albania, Gibraltar, Sweden, Zimbabwe, Algeria, Luxembourg, Belgium, Honduras, Kyrgyzstan, Romania, Croatia, Czech Republic, South Africa, Indonesia, Germany, Spain, Pakistan, Yemen, France, Morocco, Uzbekistan, Uruguay, Tajikistan, India, North Macedonia, USA, Namibia, Cambodia, Senegal, Serbia, UK, Turkey, Greece, Russia, Colombia, Nicaragua, Argentina, Bulgaria, Vietnam, Ukraine, Armenia
About
Grant Thornton is one of the world's leading organisations of independent assurance, tax and advisory firms. These firms help dynamic organisations unlock their potential for growth by providing meaningful, actionable advice through a broad range of services. Proactive teams, led by approachable partners in these firms, use insights, experience and instinct to solve complex issues for privately owned, publicly listed and public sector clients. Over 40,000 Grant Thornton people, across 130 countries, are focused on making a difference to clients, colleagues and the communities in which we live and work.

Grant Thornton Georgia is a member of Grant Thornton International. Grant Thornton International is one of the world's leading organizations of independently owned and managed accounting and consulting firms. Grant Thornton offers partner-led and personalized services, in conformity with high professional standards, dedicated to the needs of the public sector and growth-oriented businesses.

Grant Thornton Georgia is a multi-professional group of public accountants and auditors, specialist advisers in finance, business and management, as well as tax and legal advisers. We unite experienced international and local professionals working at our office in Tbilisi.

Supported by the depth of the international structure, the strength of the brand and the high standards of quality in the network, we deliver services which meet the high expectations of our clients.

We provide audit, in-depth professional consulting services and specialist advice to enterprises, banks, financial institutions, governmental, local and international organizations.