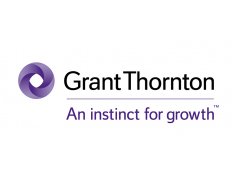 Grant Thornton (Bulgaria)
Details
Legal residence:
Bulgaria
Types:
Consulting Organization
Sectors:
Audit, Finance & Accounting
Other offices:
Burkina Faso, Austria, Saudi Arabia, Kosovo, Botswana, Tonga, Sint Maarten, Mongolia, Zambia, Egypt, Lebanon, Panama, Kazakhstan, Belize, UAE, Togo, Azerbaijan, Tunisia, Cameroon, Guinea, Italy, Afghanistan, Tanzania, China, Uganda, Gabon, Mozambique, Singapore, Ireland, Kenya, Malawi, Peru, Mexico, Brazil, Ethiopia, Philippines, New Zealand, Slovakia, Bangladesh, Belarus, Moldova, Albania, Gibraltar, Sweden, Zimbabwe, Algeria, Luxembourg, Belgium, Honduras, Kyrgyzstan, Romania, Croatia, Czech Republic, Georgia, South Africa, Indonesia, Germany, Spain, Pakistan, Yemen, France, Morocco, Uzbekistan, Uruguay, Tajikistan, India, North Macedonia, USA, Namibia, Cambodia, Senegal, Serbia, UK, Turkey, Greece, Russia, Colombia, Nicaragua, Argentina, Vietnam, Ukraine, Armenia
About
Grant Thornton was established in Bulgaria in 1995 and has since provided assurance, tax and advisory services, as well as services relating to public sector and information technologies. We have performed audit engagements for various types of businesses, including large and established organisations. We aim to develop systems and procedures that guarantee we perform our services successfully and on time. We tailor our services to the needs of our clients. We realise clients have specific needs and require profound analysis and assessment so the most appropriate decision can be made.