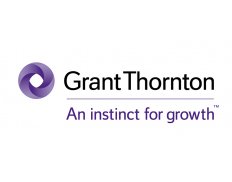 Details
Types:
Consulting Organization
Funding agencies:
EIB, WB
Sectors:
Audit, Macro-Econ. & Public Finance
Other offices:
Burkina Faso, Austria, Saudi Arabia, Kosovo, Botswana, Tonga, Sint Maarten, Mongolia, Zambia, Egypt, Lebanon, Panama, Kazakhstan, Belize, UAE, Togo, Azerbaijan, Tunisia, Cameroon, Guinea, Italy, Afghanistan, Tanzania, China, Uganda, Gabon, Mozambique, Singapore, Ireland, Kenya, Malawi, Peru, Mexico, Brazil, Ethiopia, Philippines, New Zealand, Slovakia, Bangladesh, Belarus, Moldova, Albania, Gibraltar, Sweden, Zimbabwe, Algeria, Luxembourg, Belgium, Honduras, Kyrgyzstan, Croatia, Czech Republic, Georgia, South Africa, Indonesia, Germany, Spain, Pakistan, Yemen, France, Morocco, Uzbekistan, Uruguay, Tajikistan, India, North Macedonia, USA, Namibia, Cambodia, Senegal, Serbia, UK, Turkey, Greece, Russia, Colombia, Nicaragua, Argentina, Bulgaria, Vietnam, Ukraine, Armenia
About
Grant Thornton Romania was founded in December 2010. Our firm is continuously committed to providing quality and value services to clients. We are dedicated to serving the needs of privately held business and public interest companies delivering assurance, tax, advisory and outsourcing services. Our aim is to develop a wide range of service lines, to meet the growing needs and demands of our clients.
How we work: Grant Thornton Romania delivers high quality services to its clients. Our business concept is to provide services in the field of audit, tax, advisory and outsourcing that helps to generate successful business for companies and their owners. We are able to deliver the entire range of services as part of Grant Thornton global organization of member firms.
Most of our professionals have been working for several years in top leading firms from the Romanian and international markets. They have a diverse range of qualifications and have strong technical, industry and management skills. Our specialist skills, which Grant Thornton brings to every assignment, have been developed through our academic backgrounds, rigorous internal training and extensive assignment experience.